Amnesty Condemns Detentions Without Trial In Iraq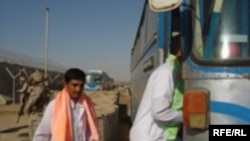 Prisoners released from Abu Ghurayb prison board a bus, September 2005 (RFE/RL) March 6, 2006 -- Amnesty International says some 14,000 Iraqi prisoners are being held by multinational forces without being charged or tried, and that the detainees are subject to abuse.
In a 48-page report released on March 6, the London-based human rights group said the lessons of Abu Ghurayb had not yet been learned. It was referring to the abuse two years ago of Iraqi prisoners by U.S. soldiers at Baghdad's Abu Ghurayb prison.
Amnesty's U.K. director Kate Allen said that as long as U.S. and British forces hold prisoners in secret detention, torture is more likely to occur and go unpunished. The group called for an end to secret internment, which it said contravened international law.
The U.S. military says all of the prisoners under its charge are treated according to international conventions and Iraqi law.
(Reuters, AP)