Russian Official Says Space Station Crew To Triple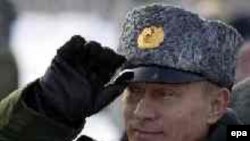 Russian President Vladimir Putin at the launch of a space rocket in 2004 (file photo) (epa) March 7, 2006 -- Russia's federal space agency said today that the permanent crew of the orbiting International Space Station is to increase from two to six astronauts in 2009.
Until now, the permanent ISS crew has comprised one Russian and one American, on board for six months at a time. Increasing the crew would mean that European and Japanese astronauts could go on longer missions.
Anatoly Perminov, director of the federal space agency Roskosmos, said the lengths of the flights will not change. He said Russia had suggested making them one year, but that the United States did not agree.
(ITAR-TASS, AFP)