Tbilisi Gas Company Boss Arrested For High-Profile Murder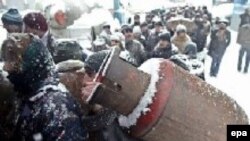 Georgians line up for gas after supplies from Russia were unexpectedly interrupted in January (file photo) (epa) March 7, 2006 -- Georgian police today arrested the top executive of Tbilisi's gas distribution company, Tbilgazi, for suspected murder.
Police believe Giorgi Gvichiani was behind the killing of Nika Lominadze, the financial manager of the electricity distributor Telasi, in 2002. Gvichiani was at the time Telasi's commercial director.
Gvichiani denies any involvement in Lominadze's murder.
(civil.ge)