On January 14, just weeks before he was killed, Maskhadov unilaterally proclaimed a one-month cease-fire, ordering the resistance forces subordinate to him to suspend all offensive military operations.
That order, according to Maskhadov spokesman Umar Khanbiev, was intended as a "gesture of goodwill," and to demonstrate that the Chechen resistance was subordinate to Maskhadov as supreme commander. At the same time, Maskhadov again invited Moscow to begin negotiations on ending the conflict, focusing on the two key issues of security guarantees for the Chechen people and a Chechen commitment to respect Russia's interests in the North Caucasus.
Putin 'Far From Reality' In Chechnya
In his last interview with RFE/RL's North Caucasus Service, just weeks before his death, Maskhadov said he believed Russian President Vladimir Putin was totally unaware of the real state of affairs in Chechnya.
"I'm deeply convinced that Putin is far from reality about what is really going on in Chechnya today," Maskhadov said. "It is common practice for the army to report what their chief wants to hear from them. Such practices probably exist in Russia's security services too."
Whatever the chain of circumstances that culminated in Maskhadov's death, it removed the last potential negotiating partner on the Chechen side with both a claim to legitimacy and authority with the resistance.
Maskhadov went on to suggest that that all could change if he and the Russian president could meet face-to-face. Such a meeting, he posited, could serve as a true foundation for change.
"We have been suggesting that a 30-minute, fair, face-to-face dialogue should be enough to stop this war, to explain to the president of the Russian Federation what the Chechen people really want -- I'm sure he doesn't even know that -- and also to hear from Putin personally what he wants, what Russia wants in Chechnya," said Maskhadov.
He added: "If we are able to open the eyes of our opponents, the Russian leaders, peace can be established."
'Yesterday's Option'
But Russian officials publicly dismissed that offer of peace talks as pointless. Presidential envoy to the Southern Federal District Dmitry Kozak said it was "irrelevant," as Maskhadov "lost control over the situation in Chechnya long ago," according to Interfax on February 3, 2005.
State Duma Foreign Affairs Committee Chairman Konstantin Kosachyov told journalists in Moscow on February 10, 2005 that negotiations with Maskhadov are "yesterday's option," adding that Maskhadov had been given the chance after the signing in August 1996 of the Khasavyurt peace accord to restore order, but lost control of the situation. "It is senseless to try to reach another agreement with a man who has already failed," Kosachyov said.
Maskhadov 'Lured' Into Trap?
Unconfirmed reports suggest, however, that the Russian authorities may have seized upon Maskhadov's peace overture as a means to get rid of him. Maskhadov's successor Abdul-Khalim Sadulayev claimed in an address to the Chechen people in autumn 2005 that Maskhadov was "lured" into talks and deliberately killed.
'I'm deeply convinced that Putin is far from reality about what is really going on in Chechnya today,' Maskhadov told RFE/RL's North Caucasus Service in an interview shortly before his death.
In its first issue for 2006, "Novoe vremya" quoted a lawyer for one of the four close associates of Maskhadov who were apprehended at the time of his death and who went on trial last fall as likewise saying that the Russian leadership agreed to Maskhadov's proposal and even gave guarantees of his safety to Tim Guldimann, the Swiss diplomat who in 1995-1996 headed the Organization for Security and Cooperation and Europe (OSCE) Mission in Grozny.
Maskhadov then declared the unilateral cease-fire and moved from Avtury to Tolstoi-Yurt -- the village north of Grozny where he was killed -- in readiness for those talks. "Novoe vremya" cited Maskhadov's unnamed arrested associate as reportedly testifying that Russian security services succeeded in hunting down Maskhadov and killing him by means of intercepted mobile-phone calls and text messages to Guldimann.
Nowhere For Negotiations To Go
But those reports have never been confirmed, and Guldimann has declined to comment to RFE/RL's North Caucasus Service on his involvement. Whatever the chain of circumstances that culminated in Maskhadov's death, it removed the last potential negotiating partner on the Chechen side with both a claim to legitimacy (Russia recognized his election in 1997 as fair and legitimate, as did OSCE monitors) and authority with the resistance.
Sadulayev, whom senior resistance figures acknowledged as president within days of Maskhadov's death,
had been named deputy president
and Maskhadov's designated successor at an extended session of the State Defense Committee in July-August 2002, but that decision was not made public at the time.
Over the past year, Sadulayev, operating in tandem with veteran field commander Shamil Basayev, has taken steps to extend the field of hostilities from Chechnya across the North Caucasus. True, Chechen militants had struck outside Chechnya even earlier, in the Moscow theater hostage-taking in October 2002, the raids on multiple Interior Ministry targets in Ingushetia in June 2004, and the Beslan school hostage-taking in September 2004. But Maskhadov had disclaimed any responsibility for, and voiced his condemnation of, those acts of terrorism, and at least through 2003 he repeatedly impressed on his troops the need to abide strictly by the Geneva Conventions and to refrain from attacking any Russian targets outside Chechnya.
But in his last interview with RFE/RL's North Caucasus Service, Maskhadov
signaled his retreat
from that self-imposed limitation, saying that he had given orders to establish additional military sectors in Ingushetia, Kabardino-Balkaria and Daghestan.
Spreading Through The North Caucasus
Sadulayev took that process even further. On May 2, he issued a series of decrees formally dividing the western "front" into no fewer than seven sectors (Ingushetia, North Ossetia, Kabardino-Balkaria, Stavropol Krai, Karachaevo-Cherkessia, Adygeya and Krasnodar) and naming commanders of those sectors. He likewise named new commanders of the eastern front as a whole and of four of its sectors (Gudermes, Argun, Kurchaloi and Grozny), according to chechenpress.org on May 16, 2005.
While the Chechen resistance has continued to wage hit-and-run attacks on Russian troops, it has carried out only one major operation since Maskhadov's death, in Nalchik, capital of the Kabardino-Balkaria Republic, in October 2005. Basayev subsequently claimed to have played a key role in the "operational planning" of that attack, but it was apparently launched prematurely after local police and security personnel tracked down one of the militant detachments that was to take part. The militants, many of them reportedly young and with only rudimentary military training, sustained proportionally heavier losses than those in the Ingushetia raids the previous year.
The apparent waning in military activity on the part of the resistance within Chechnya is likely to bolster the arguments of those senior officials in Moscow who believe that it is expedient to continue to rely on a dwindling number of Interior Ministry troops, many of them ethnic Chechens, to marginalize and then quash the resistance. (There are now only some 36,000-38,000 federal troops in Chechnya, pro-Moscow Chechen administration head Alu Alkhanov said on February 28. That compares with approximately 80,000 one year ago.)
By the same token, Sadulayev's recent affirmations of his commitment to building an Islamic state in Chechnya and to waging a national-liberation struggle to "decolonize" the North Caucasus effectively preclude any attempt by Moscow to seek compromise and common ground. Sadulayev declared in November 2005 that the Chechen side will not propose further peace talks, but continue fighting "until the Caucasus is freed from the boot of the Russian occupiers." There thus seems little chance of ending a conflict that, as Maskhadov repeatedly pointed out, "cannot be resolved by force."
The Chechnya Conflict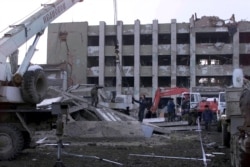 The aftermath of a December 2002 Chechen resistance attack on the main government building in Grozny (epa)


CHRONOLOGY
The
fighting in Chechnya
has raged, with short breaks, since 1994. It has brought misery, death, and destruction to the North Caucasus republic and to Russia as a whole. View an
annotated timeline
of the conflict.

ARCHIVE
RFE/RL's complete coverage of Russia's war-torn Republic of Chechnya.