Defending Iran's 'Rights'
Rohani, who now serves on the Supreme National Security Council as a representative of Supreme Leader Ayatollah Ali Khamenei, complained during a March 2 speech in Yazd that Iran does not have nuclear weapons but is being pressured, the Islamic Republic News Agency reported. Pakistan, North Korea, India, and Israel, he continued, do have nuclear weapons but are left alone. Rohani went on to say that Iran's stance on the nuclear issue is decided by the state's top officials, and it does not vary on the basis of changes in the executive branch. Rohani made the same point in an earlier speech, "Sharq" reported on February 20, saying, "Iran's general policies do not change with new governments."
The expansion of the European Union and the addition of mostly pro-American countries to its membership presents Iran with a more difficult situation, Rohani said in his 2005 speech.
Nonetheless, Rohani has been critical of President Mahmud Ahmadinejad's foreign-policy team and its diplomatic efforts -- as have other Iranian political figures. There may be more to this than concern about Iran's international standing. Rohani's negative assessment could be attributed to political rivalries with younger hard-liners associated with Ahmadinejad -- Rohani is more of a centrist and is close to Expediency Council Chairman Ayatollah Ali-Akbar Hashemi-Rafsanjani and another member of the council, former President Mohammad Khatami.
The Problem With Secrecy
Rohani described every aspect of the nuclear negotiations in a speech to the Supreme Cultural Revolution Council that was subsequently reproduced in the September 30, 2005, issue of "Rahbord." A date for the speech is not provided, but it clearly preceded the August inauguration of Ahmadinejad because it refers to Rohani as the "secretary" of the Supreme National Security Council and it refers to Khatami as the president.
Iran began work on mastering the nuclear fuel cycle in 1987-88, Rohani said, but efforts to purchase technology from the Soviet Union and China were unsuccessful. Iran, therefore, turned to the black market for its needs. What Iran did not realize, Rohani continued, was that some of the second-hand equipment it purchased was highly contaminated -- meaning it had traces of uranium that was 70-80 percent enriched. Rohani explained that enrichment in excess of 25 percent has a potential weapons-related application. The IAEA suspects Iran purchased some enriched uranium from the former Soviet Union, he added, because tests found that this was the source of the contamination.
Information was sometimes withheld from the IAEA, Rohani said, but this differs from lying. "No, we have not lied. In all cases, we have told them the truth. But in some cases, we may not have disclosed information in a timely manner."
In the summer of 2003, the Islamic republic recognized the need to "present a complete picture" of its early nuclear activities in order to avoid being reported to the Security Council. Failure to do so could be interpreted as a lack of cooperation. Furthermore, Rohani said, the nuclear watchdog had secured information about the Iranian program from many sources, such as Russia and China. In one case a student's dissertation contained information about previously undisclosed nuclear tests, while in another case a scholar's paper was published in an international journal.
Libyan information about the nuclear black market, in general, and P2 centrifuges, specifically, also shed light on Iranian activities. This specific information undermined European confidence in Iran's trustworthiness.
Dealing With Europe
In 1999-2000, Rohani said, Tehran decided to upgrade the nuclear program and granted the country's Atomic Energy Organization "a freer hand with new credits and a more liberal spending procedure, new facilities, and special regulations," which allowed it to bypass "bureaucratic and regulatory labyrinths." In July and August 2002, he continued, questions arose over the nature of the nuclear program and whether the country was in violation of the Nuclear Non-Proliferation Treaty (NPT). At that point it was decided that nuclear issues must be addressed at a higher level in the Iranian government -- the Supreme National Security Council got involved for the first time.
After the September 2003 meeting of the IAEA, Rohani continued, there was real concern that Iran would be referred to the Security Council. When the foreign ministers of France, Germany, and Great Britain came to Tehran the next month, they promised to resist U.S. pressure for a Security Council referral if Tehran was completely forthcoming on its nuclear program. It was at that time that Iran agreed to comply with the Additional Protocol of the NPT and suspend some of its nuclear activities, but Rohani added that the "system" -- in other words, top officials of the regime -- had already decided to do this.
"Of course, all the agreements that we made with the Europeans were agreements that the system had embraced beforehand," Rohani told his audience. "That is to say, even if we did not reach an agreement with the Europeans, we still would have unilaterally declared that we would sign the Additional Protocol.... Decisions had been made beforehand that we would unilaterally take those steps even in the absence of an agreement with the three [European] countries. Nevertheless, we made a deal. The deal was for us to take those steps in exchange for some commitments by the Europeans."
Another suspension agreement was concluded in Brussels in February 2004. Over time, Rohani said, according to "Rahbord," the Europeans concluded that Iran only agreed to suspend activities where it no longer had technical problems. He acknowledged that the Isfahan Uranium Conversion facility was completed in the interim, and yellow cake can be converted into uranium hexafluoride and uranium tetrafluoride there. "As far as technology is concerned, we are in better shape than we were last year," he added. Iran is able to manufacture more parts and assemble equipment, and some 350 centrifuges were built between September 2003 and the date of his speech.
Diplomatic Difficulties
The expansion of the European Union and the addition of mostly pro-American countries to its membership presents Iran with a more difficult situation, Rohani said in his 2005 speech. "When it comes to the fuel cycle, the Europeans are as determined to see us not have it as the United States," he added. As for all the European incentives and offers to Iran, he said, they are of "no immediate benefit to us" and they "take a long time to conclude."
Russia is no better, he continued, because it says Iran's desire to have the fuel cycle does not build confidence. Russia's view is, he said, that "the insistence on having the fuel cycle in and of itself undermines trust." The Russians have concerns about Iran that are not shared by China, Rohani said, and this makes the Chinese a bit easier to work with.
Iran's nuclear negotiations are the most serious in its history, Rohani said. "So far, we have been successful," he said. "We also have reached a good technical level." Addressing the involvement of China, Russia, South Africa, and the Non-Aligned Movement in the diplomatic process, he added, "Our political situation today is also better than it was a year ago."
It is almost nine months since Rohani made that speech. He is unlikely to repeat that positive assessment today -- less than one month after the IAEA Governing Board voted to report Iran to the Security Council.
What Would Sanctions Mean?
What Would Sanctions Mean?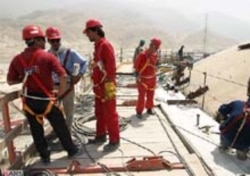 Economic sanctions could further undermine Iran's already shaky economy (Fars)


MOVING TOWARD SANCTIONS: If the United Nations Security Council imposes sanctions on Iran, domestic support for Iranian President Mahmud Ahmadinejad will wane, according to ALEX VATANKA, Eurasia editor for Jane's Information Group.
Vatanka told a February 24 RFE/RL briefing that "economic sanctions will hurt the average Iranian" and, consequently, many "will blame the ruling clerics" for making life difficult and "impairing the country's long term development."
Vatanka said sanctions would be a serious challenge to the Iranian government. If harsh economic sanctions were imposed, Iran's poorest population will be hurt the hardest -- and might react "as they did in the 1970s and protest in the streets." Sanctions on travel, Vatanka said, would hurt a many Iranians because "Iran is a nation of small traders" who depend on the ability to travel to earn an income. According to Vatanka, unemployment in Iran is estimated at 30 percent, "so small trading is essential to survival." Although current U.S. sanctions "haven't worked," he said, "Iranians fear an oil embargo." He stressed that "oil revenues are a major part of the economy, so it is critical to look at this sector."
Should negotiations with the European Union and the UN fail, Vatanka believes that Iran would follow a "North Korea model," since Ahmadinejad's base of support among the "Islamist militias" has been "urging withdrawal from the NPT [Nuclear Non-Proliferation Treaty]." The Iranian government's "tactic" so far, Vatanka said, is governed by the belief that "by shouting the loudest, you'll get concessions [from the West]."
LISTEN
Listen to the complete panel discussion (about 60 minutes):

Real Audio
Windows Media

THE COMPLETE STORY: RFE/RL's coverage of the controversy surrounding Iran's nuclear program.
CHRONOLOGY
An annotated timeline of Iran's nuclear program.