Aleksandr Chepurin, who heads a Foreign Ministry department charged with policy on Russians abroad, said much of the diaspora comprises former Soviet citizens with Russian roots who ended up outside Russia when the Soviet Union collapsed in 1991.
He estimated that Russians make up more than 20 percent of the population in the former Soviet republics of Kazakhstan, Latvia, Estonia, and Ukraine.
He urged "some countries of the former Soviet Union" to protect Russian culture, language and education.
Russia accuses Estonia and Latvia of violating the rights of Russians who settled there in the Soviet period.
(AFP, RIA Novosti)
Russians In The Former Soviet Union
Russians In The Former Soviet Union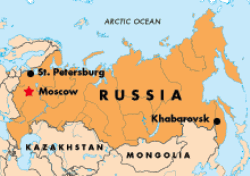 Click on the map to see how many Russians live in each of the former Soviet republics.


RUSSIANS OUTSIDE OF RUSSIA: A total of some 30 million ethnic Russians remain in the republics of the former Soviet Union, including large diasporas in Ukraine, Kazakhstan, and Belarus. This historical legacy has often been a source of tension between Russia and its neighbors. "Support for the rights of compatriots abroad is a crucial goal," Russian President Vladimir Putin said in his April 2005 state-of-the-nation address. "It cannot be subject to a diplomatic or political bargaining. Those who do not respect, observe, or ensure human rights have no right to demand that human rights be respected by others."
ARCHIVE
To view a complete archive of RFE/RL's coverage of Russia, click here.
To subscribe to "RFE/RL's Russia Report," click here .