Belgrade Questions Court's Legitimacy In Bosnian Genocide Case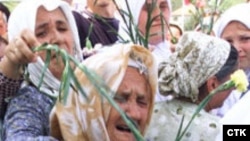 Relatives of victims of the Bosnian wars weep (file photo) (CTK) March 8, 2006 -- Serbia and Montenegro, which is accused by Bosnia of committing genocide during the Balkan wars, has questioned the right of the International Court of Justice (ICJ) to hear the case.
Radoslav Stojanovic, the head of the Serbian and Montenegrin Foreign Ministry, told the judges at the start of Belgrade's defense before the ICJ, the United Nations' highest court, that the "lack of competence of the court should end the proceedings."
The court is not expected to respond to the question of its competence until it issues a final judgment several months from now.
Defense lawyers also questioned whether the alleged crimes at the center of the case constituted genocide.
Bosnia has accused Serbia of masterminding the widespread ethnic cleansing of Bosnian Muslims and Croats during the 1992-95 war, which claimed up to 200,000 lives and left millions homeless.
(AFP)


For an archive of RFE/RL's coverage of the trial of former Yugoslav President Slobodan Milosevic, click here.
Of related interest:
RFE/RL Special: The Collapse Of Tito's Yugoslavia