War Crimes Court Hears Landmark Case: Bosnia Vs. Serbia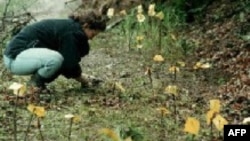 A mass grave in Bosnia being excavated in 1996 (AFP) 27 February 2006 -- The International Court of Justice today begins landmark hearings in a genocide case brought by Bosnia against Serbia and Montenegro.
It's the first-ever genocide case brought by one state against another in the Hague-based court.
Bosnia accuses Serbia of committing genocide against Bosnia's non-Serb population during the Bosnian war of the 1990s. The war claimed up to 200,000 lives and left millions homeless.
Correspondents say Bosnia will have a difficult time proving Serbian guilt, since much of the documented violence was committed by Bosnian Serbs.
The case is expected to take two months before a panel of judges considers a verdict. That process could also take months.
(AFP)


For an archive of RFE/RL's coverage of the trial of former Yugoslav President Slobodan Milosevic, click here.
Of related interest:
RFE/RL Special: The Collapse Of Tito's Yugoslavia