PRAGUE, March 8, 2006 (RFE/RL) -- The news that four police officers had been detained over the murder of Sandro Girgvliani was announced by Merabishvili himself at a March 6 news briefing broadcast live on Georgia's main television channels.
"We have solved the murder of Girgvliani," said Merabishvili. "Suspects have been arrested. They are Gia Alania, department head at the [Interior Ministry's] Constitutional Security Directorate, and three officers from the same department: Avtandil Aptsiauri, Aleksandre Ghachava, and Mikheil Bibiluri."
A Tbilisi court today remanded the four suspects in custody for two months.
Motive Unclear
Merabishvili did not say what might have prompted the officers to assassinate Girgvliani, whose body was found in a cemetery in a Tbilisi suburb on January 28.
One prominent pro-government lawmaker described Merabishvili as a 'pillar of stability' in Georgia and a relentless fighter against corruption.
Media reports have indicated that an argument that broke out in a Tbilisi cafe a few hours earlier between the victim and a number of Interior Ministry officials -- who may or may not have been the four arrested suspects -- could have served as a prelude to the killing.
According to these reports, Interior Ministry spokesman Guram Donadze and Merabishvili's wife, Tako Salakaia, were also involved in the dispute.
Merabishvili on March 7 unexpectedly announced Donadze's dismissal to the press. He said he had decided to part company with his spokesman and close collaborator because of Donadze's sometimes combative relations with the media in the past.
Officially at least, Merabishvili's decision is not connected to the Girgvliani case. However, Donadze's dismissal has added confusion to an already intricate story and fueled speculation that other Interior Ministry officials could be linked to the murder.
Calling For Clarification
The Georgian opposition has called upon Merabishvili and Prosecutor-General Zurab Adeishvili to report on the investigation before parliament. The opposition has also demanded the arrest of three senior Interior Ministry officers reportedly involved in the January dispute that led to Girgvliani's slaying.
Commenting on Merabishvili's decision to sack his spokesman, opposition parliamentarian and Democratic Front leader Koba Davitashvili on March 7 called upon the interior minister to resign.
An argument in a Tbilisi cafe between the victim and a number of Interior Ministry officials could have served as a prelude to the killing.
"We expected that [Merabishvili] would end his statement by announcing his resignation," said Davitashvili. "When members of a criminal gang include a [ministry] department head and several other senior officers -- and when, in addition, that gang operates not on the street, but in the [Interior] Ministry itself -- the minister should resign."
Addressing the same news briefing, New Rightists party member Koka Guntsadze said the opposition would increase pressure on the government so that all officials suspected of misdeeds are held accountable.
"Thanks to the efforts displayed by society, we managed to get Merabishvili to finally acknowledge that his ministry is sheltering murderers," said Guntsadze. "This is only a first step toward victory. I'm calling upon further consolidation and mobilization. A second step toward final victory is lying ahead. This should serve as a message to all underlings: all those who carry out dirty assignments will end up like this."
Culture Of Impunity?
Both opposition political groups and human rights organizations have long expressed concern at the culture of impunity they say prevails among Georgia's law enforcement officers, whom they accuse of ill-treating detainees and exerting abusive force against alleged criminals.
Merabishvili has justified his heavy-handed policy, arguing that the government is "at war" with organized crime and that the end justifies the means.
President Mikheil Saakashvili has yet to comment on the ongoing controversy. But leading members of his ruling party on March 7 hurriedly convened a press conference to express support to the interior minister.
Givi Targamadze, who chairs the parliament's defense and security committee, said he believed the opposition was hiding something behind its insistence that Merabishvili resign.
"I'm sure there's only one real motive behind [this campaign]," Targamadze said. "Why is it the country's main power structure that comes under fire? It's because our opponents closely cooperate with the criminal underworld, first of all with criminal bosses."
Another prominent pro-government lawmaker, Maia Nadiradze described Merabishvili as a "pillar of stability" in Georgia and a relentless anticorruption fighter.
Merabishvili himself has dismissed calls for his resignation, accusing the opposition of acting against Georgia's interests.
Human Rights In Georgia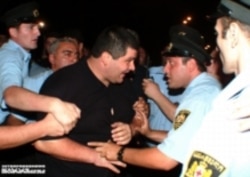 Georgia's police have been accused of using excessive force (official site)


READ
'CULTURE OF IMPUNITY':
Georgian President Mikheil Saakashvili's government has had
a checkered human rights record
since it came to power after the 2003 Rose Revolution. The international community has welcomed the steps taken by the new Georgian leaders to refine the legal mechanisms needed to combat rights abuses. But it also blames the government for failing to ensure those mechanisms are properly implemented
....(more)
RELATED ARTICLES
Rights Group Sees Rise In Police Brutality In Georgia
Citizens See No Improvement In Society, Economy After Revolutions
Helsinki Report Finds Human Rights Problems Plague Entire Region