Former Guantanamo Bay Detainee Arrested In Moscow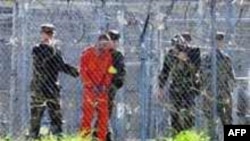 The Guantanamo Bay detention center (file photo) (AFP) March 9, 2006 -- A former Guantanamo Bay detainee and another man accused of blowing up a gas pipeline in the Russian republic of Tatarstan have been arrested in Moscow.
An aide to Tatarstan's chief prosecutor, Ildar Mukhametzyanov, said the two men -- Ravil Gumarov and Fanis Shaikhutdinov -- were detained on March 7 and would soon be transferred to Kazan.
Shaikhutdinov and Gumarov were first arrested in 2005 and charged with blowing up a gas pipeline in the town of Bugulma.
Gumarov and a third man arrested for the Bugulma attack -- Timur Ishmuratov -- are among seven Russian citizens captured by U.S. troops in Afghanistan and released in 2004 after spending several months in Guantanamo Bay.
A jury in Tatarstan cleared them of all charges in September. But the Russian Supreme Court's Cassation Chamber later overturned the acquittal.
(ITAR-TASS, newsru.com)


UPDATED CONSTANTLY: Visit RFE/RL's Russian-language website, featuring news, analysis, features, streaming audio, and more, in Russian, from RFE/RL's Russian Service.
ARCHIVE
RFE/RL's English-language
coverage of Russia
.