Russian Court Overturns Acquittal Of Ex-Guantanamo Inmates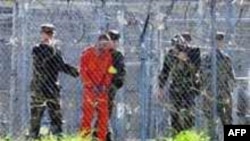 An inmate at the U.S. facility at Guantanamo Bay (file photo) (AFP) Prague, 17 January 2006 (RFE/RL) -- A London-based lawyer today said a Russian court had overturned an acquittal verdict handed down earlier on two former Guantanamo Bay detainees and a third suspect accused of involvement in a gas-pipeline explosion.
Lawyer Aleksandra Zernova told RFE/RL the decision was reached today by the Cassation Chamber of the Russian Supreme Court. She said the panel ordered that new court hearings take place.
"This is very bad news," Zernova said. "The case was handled by Russia's human rights organization Memorial and, as far as we know, the acquittal verdict should have remained in force."
There was no immediate confirmation from Russian authorities.
A jury in Russia's Tatarstan Republic in September acquitted former Guantanamo Bay detainees Timur Ishmuratov and Ravil Gumarov of charges of involvement in the explosion of a gas pipeline in the town of Bugulma in January 2005. Another suspect in the case, Fanis Shaikhutdinov, was also acquitted.
Ishmuratov and Gumarov are among seven Russian citizens who were captured in Afghanistan and subsequently released from Guantanamo Bay in 2004 for lack of evidence and returned to Russia.
Another former Guantanamo inmate, Rasul Kudayev, was detained in Russia's southern republic of Kabardino-Balkaria after last October's militant raid on the regional capital, Nalchik. Kudayev has denied any involvement in the attack.


A slideshow of images related to the top news stories of 2005.
See also:
2005 In Review: Text Messaging Takes World By Storm
2005 In Review: Bush's Democracy Agenda Sees Mixed Results
2005 In Review: EU Lives Year Of Gloom, With Future Uncertain