A cabinet statement named only one of them, Shukair Farid, a former policeman who allegedly confessed that he had worked with Syrians to enlist fellow Iraqis to carry out assassinations.
Three convicted murderers were hanged last September, the first executions to be carried out since Saddam Hussein was overthrown in 2003.
Capital punishment was suspended in Iraq during the formal U.S. occupation, which ended in June 2004, and was later reinstated.
Meanwhile, two roadside bombs exploded in western Baghdad today, killing at least nine people and injuring several others. The bombs apparently targeted Iraqi police patrols but all the casualties reported were civilians.
The U.S. military says two soldiers were killed since March 7 in fighting in the western Anbar Province.
(AFP, AP, Reuters, dpa)
Iraq And Iran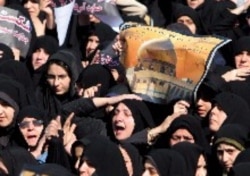 Iranian Shi'a protesting the Golden Mosque Bombing in Iraq on February 24


WHAT IS GOING ON? On March 8, RFE/RL's Washington office hosted a roundtable discussion on relations between Iraq and Iran. Although most analysts agree that Iran has been actively involved in Iraq since the U.S.-led military operation to oust former Iraqi President Saddam Hussein, they continue to debate the nature, extent, and intent of that involvement.
The RFE/RL briefing featured WAYNE WHITE, former deputy director of the U.S. State Department Bureau of Intelligence and Research's Office of Analysis for the Near East and South Asia, and A. WILLIAM SAMII, RFE/RL's regional analyst for Iran and editor of the "RFE/RL Iran Report."
LISTEN
Listen to the complete RFE/RL briefing (about 75 minutes):

Real Audio
Windows Media
RELATED ARTICLES
Iran/Iraq: Bilateral Ties Improving Despite U.S. Worries
Renewed Speculation About Tehran And Instability In Iraq
Iran/Iraq: Neighbors Mending Ties, But Outstanding Issues Remain
ARCHIVE
RFE/RL's
coverage of Iran
. RFE/RL's
coverage of Iraq
.