The Red Cross said today that the remains of 206 people were handed over to their families.
The latest cases were resolved at the just-ended fifth meeting between ethnic-Albanian and Serbian groups, and brought the number of people still missing from the conflict to 2,398 -- most of them ethnic Albanians.
The talks on the missing are part of ongoing dialogue between Prishtina and Belgrade on practical matters that also include energy, communications, and refugees.
Kosovo is a Serb province under United Nations administration.
(AFP)
Rugova Visits RFE/RL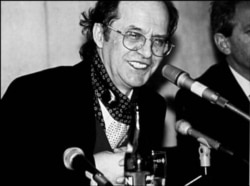 Rugova at RFE/RL's Prague headquarters in 1998
IBRAHIM RUGOVA visited RFE/RL headquarters in Prague on December 18, 1998, in order to highlight the oppression of Albanian-language media in Kosovo by the government of then Yugoslav President Slobodan Milosevic.
The Serbian Information Ministry on December 18, 1998 threatened two newspapers in Kosovo with prosecution for allegedly "stirring up terrorism and calling for the violent overthrow of the constitutional order." Serbia passed an information law two months earlier, setting fines for articles perceived to threaten the constitutional order.
Rugova said Serbian authorities have subjected Albanian-language media in the province to years of repression, shutting down some 90 periodicals, barring Albanian-language television programs and banning or jailing local journalists. He said there were two Albanian-language dailies left - "Bujku" and "Koha Ditore" - which continue to function. Rugova also said Serbian forces could, in his words "exterminate Kosovars next spring in a couple of days if they wanted to." He said this is why it is his goal to achieve a negotiated interim political settlement with the help of the international community.
For a complete archive of RFE/RL's coverage of events in Kosovo, click here.