EU, Council Of Europe Condemn Harassment Of Opposition In Belarus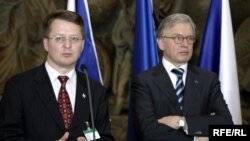 Jailed Belarusian opposition leader Vintsuk Vyachorka (left) and the Council of Europe's Rene van der Linden at the conference, "Belarus Before The Elections" in Prague, Feb. 23, 2006 (RFE/RL) March 10, 2006 -- The European Union and the Council of Europe have condemned Belarusian authorities' harassment of the political opposition ahead of the upcoming presidential poll.
Both the 25-member political bloc, and the Council, a pan- European human rights watchdog, issued separate statements detailing rights violations in the runup to the March 19 vote.
Austria, the current EU presidency, warned of the "continuing deterioration" of the situation in Belarus, where authoritarian President Alyaksandr Lukashenka is seeking a third term in office.
The EU and the Council of Europe both slammed Minsk for sentencing Vintsuk Vyachorka, leader of the opposition Belarus Popular Front, to 15 days in jail for staging an unauthorized political rally.
The Council of Europe's parliamentary speaker, Rene van der Linden, denounced Vyachorka's arrest as "further evidence of the unwillingness of the Lukashenka regime to ensure the basic conditions for free and democratic elections."
(AFP)


Click on the image to view a dedicated page with news, analysis, and background information about the Belarusian presidential ballot.
MEET THE CANDIDATES: Read brief biographies of the four candidates in the March 19 election.


Click on the image to view RFE/RL's coverage of the election campaign in Belarusian and to listen to RFE/RL's Belarusian Service.