Czech Towns Raise Tibetan Flags Despite China's Protests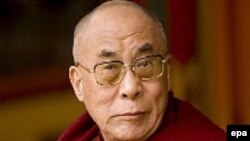 The spiritual leader of the Tibetans, the Dalai Lama (file photo) (epa) March 10, 2006 -- Hundreds of Czech communities raised Tibetan flags today, despite an attempt by Chinese diplomats to block the annual human rights protest.
Organizers say the banners were hoisted in almost 300 towns and cities across the Czech Republic in defiance of letters and e-mails sent by Beijing's ambassador, Tang Guoqiang.
Participants included Prague's City Hall and the capital's 30 district offices.
This is the tenth year that Czechs have flown flags marking China's 1959 crackdown against a Tibetan revolt in what is now China's Tibet Autonomous Region.
(CTK, dpa)