PRAGUE, 13 February 2006 (RFE/RL) -- A spoof advertisement by American cartoonist Mark Fiore -- for a fake search engine, "Irepress," a joint venture between select U.S. technology companies and the leaders of China -- sums up the controversy
The message -- that U.S. Internet companies are compromising on principles as they seek a slice of China's lucrative market. It follows Google's move to offer a censored search engine in China, a decision that prompted some fierce criticism.
"These companies are all contributing to and built one of the most effective architectures of censorship and control in the world." -- Chinese rights activist

"The spectacle of American high-tech companies assisting a government which tries to suppress freedom of information, cooperating with that government, is an appalling spectacle," U.S. Congressman Tom Lantos said on 1 February at a congressional hearing on the subject.
Google has said it understands why people are upset. In a statement, senior policy counsel Andrew McLaughlin said, "Filtering our search results clearly compromises our mission." But he added, "Failing to offer Google search at all to a fifth of the world's population, however, does so far more severely."
And he said that Google will, at least, be honest about its censorship. When it's removed sensitive information from Internet search results -- on Tibet, say, or human rights -- it will tell its users.
To Go In Or Not To Go In
Despite the criticism, Google's position has met with some understanding in the Internet community. "It's one of those situations where it is better almost to be operating in a country and you're then able to bring Western ideas of free speech to bear," said Victoria Nash, who works with the Oxford Internet Institute in the United Kingdom.
"I like the idea of the transparency that might be posed by Google displaying a notice saying that search terms are limited," Nash added. "On the whole I'm more positive."
It's not only Google that has cooperated with Chinese censorship. Rival Yahoo is facing criticism after it gave information to authorities that apparently led to the arrest of at least one dissident. And Microsoft closed one blog site that was politically sensitive.
The incidents highlight the conflict for Western businesses dealing with oppressive regimes. Some might have principles -- Google's motto is "Don't be evil" -- but, experts say, profits come first.
"This is a trend of foreign companies that are drawn to the very lucrative and very large China market to provide it the equipment and technology and the software and the services -- it's the whole range of IT [information technology] business -- in a way that reinforces an already state-of-the-art surveillance and information and social control system," said Sharon Hom, who heads the U.S.-based group Human Rights in China. "These companies are all contributing to and built one of the most effective architectures of censorship and control in the world."
Ignore Rights At Your Peril
But some disagree with that. They argue that multinational corporations are actually paying increasing attention to human rights in the countries where they operate -- not least because failure to do so can harm reputations.
"Pressure brought by nongovernmental organizations and global civil society are increasingly making it difficult for companies that have either ignored human rights issues historically as irrelevant to their practices, or who have really been disdainful of rights -- it makes it difficult for both those varieties of companies to continue business as usual," said Denis Arnold, an expert in business ethics at the University of Tennessee.
The last few years have also produced a number of guidelines setting out businesses' human rights responsibilities. These include the UN's Global Compact, or its set of norms drafted three years ago for transnational corporations. The norms say companies must pay adequate wages, and provide a safe and healthy working environment. And they must refrain from any activity that could help the state abuse human rights.
But such standards are nonbinding. And critics say real progress, if any, has been limited.
As regards the Internet sector, moves are now afoot to develop guidelines for companies working in countries where governments restrict information.
Google says it's in favor. It remains to be seen whether that will be enough to convince the critics.
Internet In China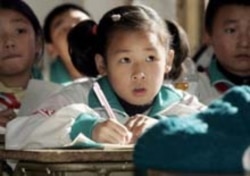 China seems to be the most successful pioneer in controlling its citizens' access to the Internet. A recent case shows that it has the help of some Western companies in doing so.... (more)
See also:
China: Acting To Keep Out 'Harmful Information'