Polish Sejm Alarmed At Belarus's Presidential Campaign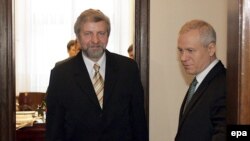 The speaker of the Sejm, Marek Jurek, welcomes the united opposition's candidate in the Belarusian presidential elections, Alyaksandr Milinkevich, in January in Warsaw (file photo) (epa) March 10, 2006 -- Polish lawmakers today accused the authorities in Belarus of violence and of harassing opposition candidates ahead of the March 19 presidential election.
Poland's parliament, the Sejm, adopted a resolution in which it condemns the Belarusian authorities' "brutal breaking of the [country's] laws" and expresses "deep alarm" at cases of "violence, imprisonment, harassment, and intimidation" of opposition candidates and activists.
It says it will continue to support those who "undertake the fight for a free and democratic Belarus."
Poland has long pushed for democratic change in neighboring Belarus, which has been ruled by authoritarian President Alyaksandr Lukashenka since 1994. Lukashenka is running for a third term.
(AP)
Video Roundtable On Belarus/Ukraine


On December 8, 2005, RFE/RL and the Policy Association for an Open Society (PASOS) jointly conducted a roundtable discussion on issues relating to Belarus's post-Soviet transition. To view video of the roundtable, click here.
See also:
Belarus: Authorities 'Cleanse' Media Ahead Of 2006 Vote
Can Belarus's Opposition Unite To Challenge Lukashenka?