Iran: Iranians Voice Mixed Views On Nuclear Conflict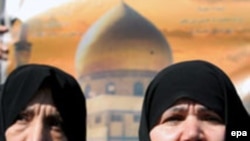 Iranian women in Tehran last month (epa) Iranian officials remain defiant after the International Atomic Energy Agency (IAEA) sent the country's nuclear dossier to the UN Security Council. Both Iranian Supreme Leader Ayatollah Ali Khamenei and President Mahmud Ahmadinejad said a day after the March 8 referral that Tehran will resist any pressure to alter its nuclear plans. Iranian officials say they have the support of Iranians who are not willing to give up their "legitimate right" to nuclear research and development. To find out more about what Iranians think, Radio Farda asked its listeners to express their views.
PRAGUE, March 10, 2006 (RFE/RL) -- Many Iranians say they are worried that the transfer of Iran's nuclear case to the UN Security Council could lead to sanctions against the Islamic Republic.
Some listeners said that sanctions would only hurt the Iranian people, not the government or politicians in general. "The politicians have problems among themselves; why should people [suffer]? [Politicians] should only think about the people," one said.
The poll also said that about 75 percent of the citizens called for an expansion of nuclear technology, even in the case of a referral of Iran's nuclear case to the UN Security Council.
Bad For The People
One man in Tehran had the same concern: "I would like to say that U.S. sanctions do not have any affect on the government, only people will be under pressure."
Iranian Supreme Leader Ali Khamenei said on March 9 that his country will continue its nuclear drive. He said: "Today, the Iranian people and the officials of the Islamic Republic of Iran, more powerful than before and like steel, will stand against any pressure or conspiracy."
In similar comments, Ahmadinejad said in a speech that Iran's "enemies" cannot force the Iranian people to relinquish their rights.
Iran's Student News Agency (ISNA) reported that during Ahmadinejad's March 9 speech in Borujerd, Lorestan Province, thousands of people chanted "nuclear energy is our inalienable right."
Some Support
Ahmadinejad said Iran will not be bullied into renouncing its pursuit of nuclear energy. This Radio Farda listener agrees. He said that Iran should not bow to pressure.
"I'm calling from Tehran regarding the UN Security Council; I think we have to resist," he said. He added that he also believes that despite increasing pressure Iran should continue its peaceful nuclear activities. "Why does the U.S. speak about the rights of the Iranian people such as the right to freedom of expression but it does not recognize a peaceful nuclear program as a right of Iran," he said. "Why should Israel have nuclear weapons but the Iranian people be deprived of having a peaceful program. We should realize that the U.S. doesn't want Muslim countries to have access to nuclear science."
Iran says its nuclear activities are solely peaceful but Washington accuses Iran of secretly developing nuclear weapons.
Iranian officials have termed the IAEA decision to forward the Iranian nuclear case to the UN Security Council as "unjust" and said it proves the West's dual attitude "towards nuclear issues in the world."
But some Iranians who contacted Radio Farda believe the referral of Iran's case to the UN Security Council is a result of the Islamic Republic's "hard-line" policies and stances.
Against The Hard Line
This listener from Lahijan, in northern Iran, seemed to understand the international community's concerns: "Unfortunately in the last five or six months, instead of trying to gain more friends in Europe, we have added to our number of enemies. [Those countries in opposition to Iran's nuclear program] say that if a country that has for the last 27 years chanted 'death to America' and has called for the transfer of another country (eds. Israel) to other regions, gains access to an atomic bomb, then it will definitely put its slogans into action."
This man also believes the Iranian government is responsible for the new phase of the confrontation with the West. "The Iranian establishment claims that nuclear energy is the right of the Iranian nation," he said. "Aren't freedom and democracy the right of the Iranian people? The oil money is not the right of the Iranian people? Why the names of Palestine, the Lebanese Hezbollah, and Syria are included in our annual budget? Are they partners in our oil money or are they from one of Iran's provinces?"
Mehdi, from Tehran, told Radio Farda that the Iranian government is putting its people at the risk of sanctions or even of a military strike. "In my opinion, Iran's nuclear case must have been taken to the UN Security Council, because this regime has threatened the life of 70 million people with its nuclear ambitions," he said.
But officials insist that Iranians consider the country's nuclear program is a matter of a national right.
According to a February survey conducted by the state Iranian Students Polling Agency (ISPA), some 85 percent of Iranian citizens are in favor of a continuation of the country's nuclear activities.
The poll also said that about 75 percent of the citizens called for an expansion of nuclear technology, even in the case of a referral of Iran's nuclear case to the UN Security Council.
Some analysts, however, warn that if sanctions are imposed the supportive public opinion could change, as many people will not be willing to face the economic pressures.
What Would Sanctions Mean?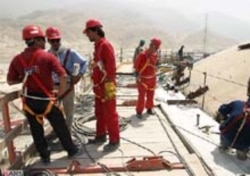 Economic sanctions could further undermine Iran's already shaky economy (Fars)


MOVING TOWARD SANCTIONS: If the United Nations Security Council imposes sanctions on Iran, domestic support for Iranian President Mahmud Ahmadinejad will wane, according to ALEX VATANKA, Eurasia editor for Jane's Information Group.
Vatanka told a February 24 RFE/RL briefing that "economic sanctions will hurt the average Iranian" and, consequently, many "will blame the ruling clerics" for making life difficult and "impairing the country's long term development."
Vatanka said sanctions would be a serious challenge to the Iranian government. If harsh economic sanctions were imposed, Iran's poorest population will be hurt the hardest -- and might react "as they did in the 1970s and protest in the streets." Sanctions on travel, Vatanka said, would hurt a many Iranians because "Iran is a nation of small traders" who depend on the ability to travel to earn an income. According to Vatanka, unemployment in Iran is estimated at 30 percent, "so small trading is essential to survival." Although current U.S. sanctions "haven't worked," he said, "Iranians fear an oil embargo." He stressed that "oil revenues are a major part of the economy, so it is critical to look at this sector."
Should negotiations with the European Union and the UN fail, Vatanka believes that Iran would follow a "North Korea model," since Ahmadinejad's base of support among the "Islamist militias" has been "urging withdrawal from the NPT [Nuclear Non-Proliferation Treaty]." The Iranian government's "tactic" so far, Vatanka said, is governed by the belief that "by shouting the loudest, you'll get concessions [from the West]."
LISTEN
Listen to the complete panel discussion (about 60 minutes):

Real Audio
Windows Media

THE COMPLETE STORY: RFE/RL's coverage of the controversy surrounding Iran's nuclear program.
CHRONOLOGY
An annotated timeline of Iran's nuclear program.