Bus Hits Mine In Southwest Pakistan, 30 Dead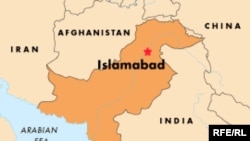 (RFE/RL) March 10, 2006 -- A bus today hit a land mine in Pakistan's restive southwest province of Baluchistan, killing as many as 30 people and injuring at least seven others.
Local officials say the bus was carrying a wedding party when it ran over the mine on a remote road about 300 kilometers east of Quetta. The officials say many of the victims were women and children.
Baluchistan has been plagued by violence blamed on tribal groups pressing for greater autonomy and a share in the income from the region's natural resources.
(AFP, AP)