Jan Vandemoortele, the UN humanitarian coordinator in Pakistan, said the phone call was received on 16 January by the UN High Commission for Refugees office in Quetta.
Vandemoortele said that Al-Qaeda was mentioned twice in the phone call and officials considered it "a credible threat."
He said the UN closed all offices in the southwestern province of Baluchistan on 16-17 January.
(AP, AFP)
Who Is Ayman al-Zawahri?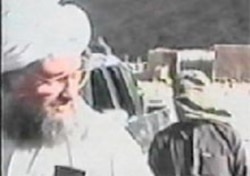 AYMAN AL-ZAWAHRI is regarded as Al-Qaeda's No. 2 authority. Although al-Zawahri is lesser known than Osama bin Laden, some observers say the deputy is just as powerful as the chief....(more)
See also:
Is Al-Qaeda Letter Sign Of Rift, Or Opportunity For Bush?