Prague, 14 January 2006 (RFE/RL) -- U.S. television networks CNN and ABC cited sources saying that unmanned U.S. drones had fired missiles at the village of Damadola, some 200 kilometers northwest of Islamabad. Their target: top Al-Qaeda figures believed to be in the area, including Osama bin Laden's No. 2, Ayman al-Zawahri.
Those reports said it's possible al-Zawahri was killed in the strike. If officially confirmed, al-Zawahri would be the most senior Al-Qaeda figure captured or killed so far.
However, unnamed senior officials in Pakistan told Reuters and AP that al-Zawahri was not present at the site of the attack.
And angry villagers in Damadola have also denied al-Zawahri was there and thousands were today protesting the strike in a nearby town.
Other officials have publicly condemned the strike, with the Foreign Ministry lodging a protest with the U.S. Embassy.
"We deeply regret that civilian lives have been lost in an incident in Bajaur Agency," Pakistani Information Minister Sheikh Rashid Ahmed said. "While this act is highly condemnable, we have been for a long time striving to rid all our tribal areas of foreign intruders who have been responsible for all the misery and violence in the region. This situation has to be brought to an end."
Al-Zawahri has appeared in a series of videos in recent months, encouraging Muslims to unite against the United States and threatening more attacks.
"Oh Americans, what you have seen in New York and Washington, and the casualties you witness in Afghanistan and in Iraq, despite all the media blackout, are nothing but the casualties of the initial clashes," al-Zawahri said on a tape released shortly after the London bombings in July. "If you continue the same policy of aggression against the Muslims, you will see, Allah willing, horrors that will make you forget what you saw in Afghanistan...I mean, in Vietnam."
The Egyptian-born doctor is said to have become involved with radicals at an early age. He spent three years in Egyptian jails for militancy and was implicated in the 1981 assassination of Egyptian President Anwar Sadat.
In the 1980s, al-Zawahri headed to Pakistan to treat fighters wounded in the resistance to the Soviet occupation of Afghanistan. It was then that he met Osama bin Laden, and in 1998 he was a signatory to bin Laden's call for attacks against the United States.
Within a few weeks, explosions struck U.S. embassies in Kenya and Tanzania, attacks for which al Zawahri was indicted in the United States.
He is said to be the brains behind bin Laden and Al-Qaeda's second-in-command, and he is one of the United States' most wanted men and has a $ 25 million bounty on his head.
Analysts say recent arrests of top Al-Qaeda figures in Pakistan and elsewhere mean the network has lost much of its capability.
(compiled from agency reports)
Who Is Ayman al-Zawahri?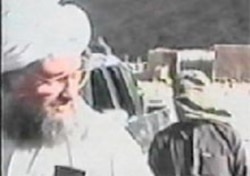 AYMAN AL-ZAWAHRI is regarded as Al-Qaeda's No. 2 authority. Although al-Zawahri is lesser known than Osama bin Laden, some observers say the deputy is just as powerful as the chief....(more)
See also:
Is Al-Qaeda Letter Sign Of Rift, Or Opportunity For Bush?