Al-Zawahri's call came in a video message broadcast today by Al-Jazeera television. In the videotape, Al-Zawahri said Bush should admit he has been defeated in Iraq and Afghanistan and that he will soon also be defeated in Palestine.
The Al-Qaeda militant, wearing a white turban and gray robe, was seated next to an automatic rifle -- a standard setup seen in previous videos.
Al-Jazeera said the videotape was dated "December," but it gave no specific date. This could not be independently verified.
(AP/Reuters/AFP)
Who Is Ayman al-Zawahri?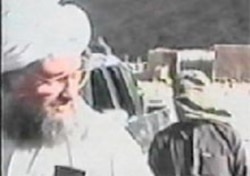 AYMAN AL-ZAWAHRI is regarded as Al-Qaeda's No. 2 authority. Although al-Zawahri is lesser known than Osama bin Laden, some observers say the deputy is just as powerful as the chief....(more)
See also:
Is Al-Qaeda Letter Sign Of Rift, Or Opportunity For Bush?