In an address to British troops in the southern city of Al-Basrah, Blair said that a stable Iraq would make the region and the whole world safer.
Blair was on his fourth trip to Iraq since the U.S.-led invasion in 2003 that ousted Saddam Hussein.
The British prime minister earlier held talks with top U.S. and British officials in Iraq.
(AFP/AP)
Meet The Newsmaker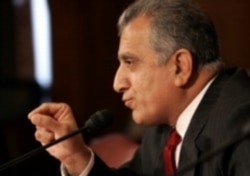 Shortly after assuming his post as U.S. ambassador to Iraq, Zalmay Khalilzad laid out his vision for that country in a major policy address. His plan called for a national compact enshrined in the constitution; the isolation and defeat of terrorists and hardcore Ba'athists and encouraging the region's leaders to address problems in a cooperative spirit and to pressure those who continue to foment instability
....(more)