"I suspect that, in any event, if he's alive and functioning, that he's probably spending a major fraction of his time trying to avoid being caught," Rumsfeld told journalists. "I have trouble believing that he's able to operate sufficiently to be in a position of major command over a worldwide Al-Qaeda operation, but I could be wrong. We just don't know."
On 13 December, U.S. Ambassador to Pakistan Ryan Crocker told reporters in Islamabad that he did not believe bin Laden was in control of Al-Qaeda and that the organization was in "serious trouble."
"I think that Osama bin Laden is no longer the operational head of Al-Qaeda, because he is hiding deep inside the mountains and he doesn't have contact with the Al-Qaeda people," Crocker said.
Crocker might have been responding to a video address made on 7 December by Al-Qaeda deputy chief Ayman Al-Zawahri, who claimed that bin Laden was alive and well and leading the jihad.
"All the lies that U.S. President Bush tries to delude the Americans with, saying that he destroyed half, or three quarters of Al-Qaeda are but nonsense merely in his own head," al-Zawahri said on the tape.
The fact that al-Zawahri is able to post videos of himself on websites indicates that the Al-Qaeda leadership is not totally isolated in distant mountainous regions. In September, al-Zawahri appeared on a video in which he claimed that Al-Qaeda was responsible for the blasts in the London transport system in July, in which 56 people were killed. Three of the suicide bombers had previously visited Pakistan, fuelling speculation that they might have been in contact with Al-Qaeda.
During his meeting with the press, Rumsfeld was asked if he believes that bin Laden is alive.
"If he's not around.... We know he has a fondness for talking on tapes and videotapes, and he seems not to be terribly fond of it for the last period of months," Rumsfeld said. "But I just don't know [if he's dead]."
The Pakistani commander in charge of counterterrorism operations along the Afghanistan-Pakistan border, Lieutenant General Safdar Hussain, was asked by CBS News on 25 September about the possibility that bin Laden might be dead or incapacitated.
"Is it all that important to find him?" Hussain asked. "Even if he's taken out tomorrow, his ideology is not going to come to an end. So, I don't think that he's that important that we should be overly concerned about his being dead or alive."
Who Is Ayman al-Zawahri?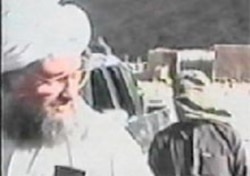 AYMAN AL-ZAWAHRI is regarded as Al-Qaeda's No. 2 authority. Although al-Zawahri is lesser known than Osama bin Laden, some observers say the deputy is just as powerful as the chief....(more)
See also:
Is Al-Qaeda Letter Sign Of Rift, Or Opportunity For Bush?