The plea was made in a videotape posted on the Internet on 7 December but originally shot on 19 September.
Al-Jazeera aired the latest excerpts on 7 December, claiming this was new footage of Egyptian-born al-Zawahri. Al-Jazeera later acknowledged its mistake. Al-Jazeera had broadcast other excerpts from the video in September.
(AP)

Who Is Ayman al-Zawahri?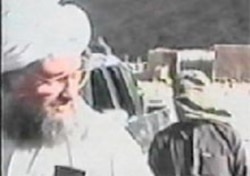 AYMAN AL-ZAWAHRI is regarded as Al-Qaeda's No. 2 authority. Although al-Zawahri is lesser known than Osama bin Laden, some observers say the deputy is just as powerful as the chief....(more)
See also:
Is Al-Qaeda Letter Sign Of Rift, Or Opportunity For Bush?