In the country's biggest city, Karachi, about 10,000 people chanted slogans such as "Stop bombing against innocent people."
Hundreds of riot police were deployed in the streets but the rally ended after an hour with no reports of clashes or violence.
Islamists called for the nationwide rallies following the 13 January attack in a village near the Afghan border.
News agencies, citing unidentified sources in the U.S. intelligence community, reported that the strike was aimed at top Al-Qaeda leader Ayman al-Zawahri. They also cite two unnamed senior Pakistani officials as saying al-Zawahri was not at the site of the attack.
Pakistan has filed a formal protest with the U.S. Embassy. The U.S. Defense Department has denied any involvement in the attack.
(AP, Reuters)
Who Is Ayman al-Zawahri?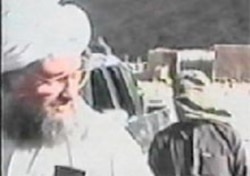 AYMAN AL-ZAWAHRI is regarded as Al-Qaeda's No. 2 authority. Although al-Zawahri is lesser known than Osama bin Laden, some observers say the deputy is just as powerful as the chief....(more)
See also:
Is Al-Qaeda Letter Sign Of Rift, Or Opportunity For Bush?