Rumsfeld said on a trip to Pakistan today that the Bush administration still considers it a priority to capture the mastermind of the Sept. 11, 2001 attacks on the United States, who is believed to be hiding somewhere in the mountains along the Afghanistan-Pakistan border.
In a video interview earlier this month, Al-Qaeda deputy leader Ayman al-Zawahri said that bin Laden's battle against the West was only just beginning.
(Reuters)
Who Is Ayman al-Zawahri?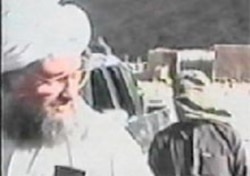 AYMAN AL-ZAWAHRI is regarded as Al-Qaeda's No. 2 authority. Although al-Zawahri is lesser known than Osama bin Laden, some observers say the deputy is just as powerful as the chief....(more)
See also:
Is Al-Qaeda Letter Sign Of Rift, Or Opportunity For Bush?