Nikolai Patrushev told reporters that Saudi-born Abu Omar al-Seif was killed in the Northern Caucasus republic of Daghestan last month.
Al-Seif's death had earlier been reported by Russian media but had not been officially confirmed.
The FSB says al-Seif arrived in the Northern Caucasus 10 years ago on the orders of Osama bin Laden. It says he ran the Al-Haramein Islamic Foundation as a cover for setting up a terrorist network in Chechnya, Ingushetia, and Daghestan. Al-Seif also allegedly acted as a counsellor to Chechen separatist rebels.
Patrushev today said security forces killed more than 300 suspected militants in sweep operations in the Northern Caucasus this year.
(Interfax/RIA-Novosti/ITAR-TASS)
Who Is Ayman al-Zawahri?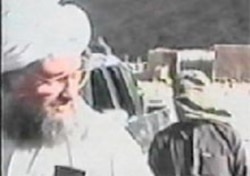 AYMAN AL-ZAWAHRI is regarded as Al-Qaeda's No. 2 authority. Although al-Zawahri is lesser known than Osama bin Laden, some observers say the deputy is just as powerful as the chief....(more)
See also:
Is Al-Qaeda Letter Sign Of Rift, Or Opportunity For Bush?