Afghanistan: Escape Of High-Level Al-Qaeda Member Causes Concern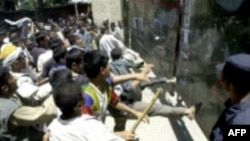 Arrests after the escape by the four suspected terrorists led to protests outside Bagram on 26 July (AFP) A request by a lawyer of a U.S. soldier led to the identification of Omar al-Faruq as one of the four suspected Al-Qaeda terrorists who managed to escape in July from the U.S. detention facility at Bagram Air Base north of Kabul, leading to calls for better security at Bagram and leaving a sense of unease in Indonesia, where al-Faruq had mainly operated.
On 11 July, the four escaped from Bagram, the main base for more than 18,000 U.S. forces stationed in Afghanistan and also the detention center for most of the some 500 terror suspects held in Afghanistan by U.S. forces.
The four escapees were identified as threats to Afghan and international security by the United States, which conducted a massive but unsuccessful manhunt to recapture them. The subsequent arrests made in an attempt to recapture the four apparently led to large protests on 26 July at the gates of Bagram Air Base by locals protesting the detention of a number of people,
including a local commander.
Three days after their escape Mullah Mahmud, who identified himself as the neo-Taliban's commander in southern Afghanistan, claimed that the four were in good health and were with Afghan militants.
While the possibility of al-Faruq making his way back to Indonesia
remains a dangerous possibility, it is more conceivable that he may
have joined the remnants of Al-Qaeda in or around Afghanistan or has
made his way back to his country of heritage, Iraq.
Identities Revealed
The four escapees were identified as Muhammad Ja'far Jamal (al-Misradi) al-Qahtani (also known as Abu-Nasir al-Qahtani), from Saudi Arabia; Abdullah al-Hashemi (or Abu-Abdullah al-Shami) from Syria; Mahmud Ahmad Muhammad (or Al-Faruq al-Iraqi) from Kuwait; and Muhammad Hasan (also known as Abu-Yahya) from Libya.
In October, a Jihadist website showcased al-Qahtani, who is supposed to have participated in two beheadings in Iraq and also operated against U.S. forces in the eastern Afghan province of Khost with the Taliban, among other activities. Also in October, Doha-based Al-Jazeera television broadcast a videotape showing all four of the Bagram escapees discussing their breakout.
In August, the U.S. military blamed failings by guards and their supervisors to follow standard operating procedures for the escape from Bagram.
As the Bagram jailbreak began to become history, a military lawyer defending a U.S. serviceman accused of abusing prisoners in Bagram requested on 1 November the presence of al-Faruq as part of his client's defense.
Where Will He Go?
It was at this point that Omar al-Faruq's full identity became known. Al-Faruq was born to Iraqi parents in Kuwait and known to be the main Al-Qaeda representative in Southeast Asia. He was arrested by the Indonesian government in June 2002 and almost immediately transferred to U.S. custody, which took him to Bagram. While in Indonesia, al-Faruq allegedly liaised between Osama bin Laden and Al-Qaeda sympathizers in Southeast Asia and reportedly was able to unite several militant Islamist groups in that region. While in U.S. custody, al-Faruq apparently cooperated with his interrogators, providing them with information about possible attacks in Southeast Asia and the United States coinciding with the first anniversary of the 11 September 2001 terrorist attacks. His information prompted the United States to issue its first code-orange terror alert.
Information that al-Faruq was among the four who escaped from Bagram has worried Indonesia, which has asked Washington why it did not inform Jakarta that al-Faruq was on the loose. The revelation about al-Faruq has also prompted U.S. authorities to discuss the jailbreak in Bagram and talk about improvements in securing the detention facility.
While the possibility of al-Faruq can make his way back to Indonesia remains a dangerous possibility, it is more conceivable that he may have joined the remnants of Al-Qaeda in or around Afghanistan or has made his country of heritage, Iraq. Wherever he is, the jailbreak at Bagram could become a very costly incident.