Berisha told reporters in Tirana on March 11 that the news of Milosevic's death will bring relief to many.
The Albanian leader called Milosevic "the Butcher of the Balkans, who caused the greatest drama and tragedy in the modern history of the Bosnians, Albanians, and Croats."
(AFP)
Croatia's President Comments
Croatia's President Comments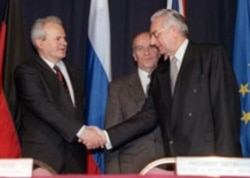 Slobodan Milosevic (left) shakes hands with Croatian President Franjo Tudjman after the signing of the Dayton peace accord in Paris on 21 November 1995 (epa)


NO COMPROMISES: On September 20, 2004, Croatian President STIPE MESIC gave an extensive interview to RFE/RL's South Slavic and Albanian Languages Service in which he discussed the history of the collapse of Yugoslavia, as well as the 1990s Balkans conflicts and Slobodan Milosevic's role in them (the complete interview in Croatian).
During this period, Mesic enjoyed a stormy relationship with Franjo Tudjman, who was Croatia's president at the time. Mesic was one of several prominent moderate Croats who did not hide his disapproval of the 1993-94 Croatian-Muslim conflict in Bosnia. Many observers held Tudjman responsible for that conflict, since he seemed bent on partitioning Bosnia with Serbian President Slobodan Milosevic and establishing a greater Croatia.
Asked whether he, as the last president of the second or communist-era Yugoslavia, feels some responsibility for the demise of that state, Mesic told RFE/RL that it was clear to him when he arrived in Belgrade in 1991 to try to take up the rotating chair of the eight-member Yugoslav presidency that federal Yugoslav institutions had ceased to function. The solution, he felt, was to reach a new political agreement. The presidency consisted of representatives of the six republics -- Slovenia, Croatia, Bosnia, Serbia, Montenegro, and Macedonia -- plus the Serbian autonomous provinces of Kosovo and Vojvodina, which enjoyed a legal status close to that of the republics under the 1974 constitution.
But, Mesic argued, Milosevic did not want such a compromise. Instead, Milosevic sought to break up Yugoslavia and create a greater Serbia. In the course of carrying out his plan, Mesic charged, Milosevic indulged in genocide and other war crimes, and for that he was brought before the Hague-based war crimes tribunal.
Milosevic never gave Mesic the opportunity to lead the country to a compromise solution, because the Serbian leader and his three allies on the presidency prevented the Croat from taking over the rotating chair.
Mesic was supported by the representatives of Slovenia, Bosnia, and Macedonia, all of which were to declare their independence in the following months when it became clear that Milosevic was interested in controlling the federation and would destroy it if he could not dominate it. (Patrick Moore)
See also:
Timeline: The Political Career Of Slobodan Milosevic
Slobodan Milosevic's Life And Legacy



THE COMPLETE PICTURE: An archive of RFE/RL's coverage of the trial of former Yugoslav President Slobodan Milosevic.
Of related interest:
RFE/RL Special: The Collapse Of Tito's Yugoslavia