Ex-Georgian Foreign Minister Ready To Bid For Presidency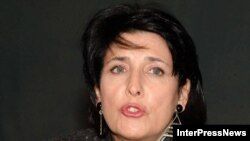 Salome Zurabishvili (InterPressNews) March 13, 2006 -- A former Georgian foreign minister, Salome Zurabishvili, said today she is ready to stand for president in Georgia's next presidential elections in 2009.
Zurabishvili became Georgia's foreign minister in March 2004. She was dismissed in October 2005 following a series of acrimonious clashes with the leaders of parliament.
Zurabishvili pointed out that if she were to stand in 2009 the constitution would have to be changed. At present, candidates for the post of president have to have lived in Georgia for at least 15 years.
Zurabishvili was brought up in a Georgian emigre family in France and served for 30 years in the French diplomatic corps.
The ex-foreign minister is the leader of the political party Georgia's Path, which held a congress on March 12.
(Caucasus Press, Interfax, Ekho Moskvy)

SUBSCRIBE For weekly news and in-depth analysis on Armenia, Azerbaijan, Georgia, and Russia's North Caucasus by e-mail,
subscribe to "RFE/RL Caucasus Report."