PRAGUE, March 10, 2006 (RFE/RL) -- Georgian media say an estimated 3,000 people gathered today in front of the parliament building on Tbilisi's Rustaveli Avenue.
An equal number of demonstrators had staged a similar protest on March 9 to demand that the government revoke its decision to require cash registers at all marketplaces.
These were by far the largest street protests since the change of political leadership that occurred in November 2003.
The government says its decision to introduce cash registers is part of efforts to enhance tax discipline. It has threatened to heavily fine those traders who do not comply with the new regulations, which officially became effective on March 1.
Market traders, in turn, insist that expensive cash registers be replaced with a lump monthly tax, or that the government delay the implementation of the new regulations.
But Prime Minister Zurab Noghaideli on March 9 ruled out any compromise on the issue, saying: "The decision has been made and will not be changed."
Protestors Urged To Keep Pressure On
Hours earlier, five opposition parliamentarians announced their intention to go on hunger strike until the government agrees to a compromise. However, it remained unclear today whether they will make good on their promise.
Among them is Koba Davitashvili, one of the leaders of the Democratic Front coalition.
Addressing the crowd gathered in front of the parliament building, Davitashvili said he had received assurances that fines for violating the new trade regulations would not be introduced at once. However, he called upon the protesters to maintain pressure on the government.
"There are various forces in the government. Some are for dialogue, while others are entrenched in their position. We must favor dialogue and help reach an agreement. Let us put an end to our peaceful action and gather again [next week]," Davitashvili said.
Upon Davitashvili's request, today's rally ended with protesters observing a minute of silence in memory of Sandro Girgvliani, a bank employee whom police officers beat to death in January.
The Girgvliani case has put the spotlight on the Interior Ministry, which civic campaigners blame for increasing human rights abuses.


Interior Minister Vano Merabishvili this week said he had sacked four of his subordinates on suspicion of slaying Girgvliani. But relatives of the deceased, rights groups, and opposition leaders suspect other ministry officials are involved and demand that Merabishvili step down.
Addressing a gathering of civic campaigners, sympathizers, and opposition leaders, Girgvliani's mother Irina Enukidze today vowed to fight until all those responsible for her son's death are brought to justice.
"Where is the government? If there is no government, we should stand up. We mustn't give up. As long as all of my son's murderers will not be caught, I will not give up," Enukidze said.
Former Foreign Minister Salome Zurabishvili attended the meeting. She urged civil society to close ranks and force the government to take heed of its concerns: "I don't know why people demonstrated yesterday. But I know they should take to the streets for the sake [of the Girgvliani case]. We must take to the streets and stand ready for anything. We mustn't give up."
Zurabishvili, whom many in Georgia see as Saakashvili's greatest potential challenger, is expected to launch a new opposition party later this month with a view to taking part in local elections this coming fall.
Human Rights In Georgia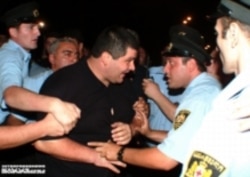 Georgia's police have been accused of using excessive force (official site)


READ
'CULTURE OF IMPUNITY':
Georgian President Mikheil Saakashvili's government has had
a checkered human rights record
since it came to power after the 2003 Rose Revolution. The international community has welcomed the steps taken by the new Georgian leaders to refine the legal mechanisms needed to combat rights abuses. But it also blames the government for failing to ensure those mechanisms are properly implemented
....(more)
RELATED ARTICLES
Rights Group Sees Rise In Police Brutality In Georgia
Citizens See No Improvement In Society, Economy After Revolutions
Helsinki Report Finds Human Rights Problems Plague Entire Region