Addressing reporters in Baku, Fried also cautioned against resumption of hostilities between Azerbaijan and Armenia over the disputed enclave of Nagorno-Karabakh.
"The process of Azerbaijanis returning to Azerbaijani lands should begin as soon as possible and the war would be a catastrophe for everyone."
An estimated 600,000 Azeris and Kurds from areas surrounding Karabakh were driven from their homes when Armenian forces moved into Azerbaijan in the early 1990s.
The United States co-chairs the Minsk Group of nations that have been charged by the Organization for Security and Cooperation in Europe (OSCE) to help Armenia and Azerbaijan settle their 18-year-old dispute. France and Russia are the other co-chairs.
Steven Mann, the U.S. envoy to the Minsk Group, today said in Baku that both Armenia and Azerbaijan have an opportunity to achieve some of their demands this year.
Mann and Fried are expected to travel to Armenia later this week before attending a Minsk Group meeting in Istanbul.
(with additional material from Turan, Day.Az, APA)
The Nagorno-Karabakh Conflict
The Nagorno-Karabakh Conflict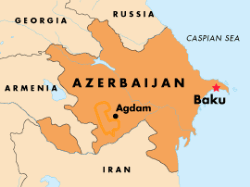 Click on the image to view an enlarged map of the Nagorno-Karabakh conflict zone

In February 1988, the local assembly in Stepanakert, the local capital of the Azerbaijani region of NAGORNO-KARABAKH, passed a resolution calling for unification of the predominantly ethnic-Armenian region with Armenia. There were reports of violence against local Azeris, followed by attacks against Armenians in the Azerbaijani city of Sumgait. In 1991-92, Azerbaijani forces launched an offensive against separatist forces in Nagorno-Karabakh, but the Armenians counterattacked and by 1993-94 had seized almost all of the region, as well as vast areas around it. About 600,000 Azeris were displaced and as many as 25,000 people were killed before a Russian-brokered cease-fire was imposed in May 1994.
CHRONOLOGY: For an annotated timeline of the fighting around Nagorno-Karabakh in 1988-94 and the long search for a permanent settlement to the conflict, click here.

Click on the icon to view images of the Nagorno-Karabakh conflict (Flash required)
To view an archive of all of RFE/RL's coverage of Nagorno-Karabakh,
click here.