Uzbekistan Jails Eight For Wahhabism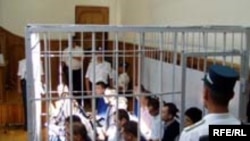 Scene inside a Tashkent court (file photo) (RFE/RL) March 15, 2006 -- Reports from Uzbek human rights defenders say the Uzbek authorities have given long sentences to eight men accused of propagating Wahhabism, an austere, fundamentalist form of Sunni Islam predominant in Saudi Arabia.
Surat Ikramov, the head of the Rights Defenders' Initiative Group, says the eight were sentenced in Tashkent on March 13 to jail terms of up to six years.
The eight claim they were tortured into confession, Ikramov says.
Uzbek authorities maintain a "zero tolerance" policy toward groups that have been deemed to be extremist.
(AP)


A dedicated webpage bringing together all of RFE/RL's coverage of the events in Andijon, Uzbekistan, in May 2005 and their continuing repercussions.
CHRONOLOGY
An
annotated timeline
of the Andijon events and their repercussions.