Iranian Nobel Laureate Receives New Death Threat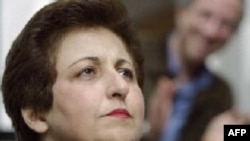 Shirin Ebadi (file photo) (AFP) PRAGUE, March 16, 2006 (RFE/RL) -- Iranian Nobel Peace Prize Laureate Shirin Ebadi says she and her family have received a new death threat.
Ebadi, who in 2003 became the first Iranian and Muslim woman to receive a Nobel prize, Ebadi told RFE/RL's Radio Farda that the latest threats arrived on March 16 in a letter from a group calling itself the Society Against Apostate Baha'is. Ebadi believes no such group exists.
The reason cited for the threat are her speeches outside the country.
Ebadi said she informed the police about the letter.
[To read an exclusive RFE/RL interview with Ebadi from March 8, click here.]

SUBSCRIBE For regular news and analysis on Iran by e-mail,
subscribe to "RFE/RL Iran Report."