MOSCOW, March 16, 2006 (RFE/RL) -- Russian deputies unanimously approved a statement accusing the UN war crimes tribunal for the former Yugoslavia (ICTY) of systematically applying double standards and bias since its creation in 1993.
The statement, which is not legally binding, dismisses the court as "useless" and says it is "essential" that it be immediately disbanded.
Konstantin Kosachyov, the head of the Duma's Foreign Affairs Committee and the man who drafted the statement, accused the international court of being anti-Serb.
"The problem with the Hague tribunal is that, in line with a higher political task given to it, it has established once and for all who the criminals are and that they are in Serbia, while NATO is -- like Caesar's wife -- above suspicion," Kosachyov said.
The statement came just days after the sudden death of Milosevic, who was found dead in his cell at The Hague on March 11. An autopsy has revealed he succumbed to a heart attack.
Death Before Verdict
Milosevic had been in custody since 2001. He was standing trial on 66 charges that included genocide, war crimes, and crimes against humanity committed during the wars in Croatia, Bosnia-Herzegovina, and Kosovo in the 1990s.
The death of Milosevic before the pronouncement of a final verdict came as a severe disappointment to many, not least his prosecutors and victims.
Russia, however, has other reasons for being upset at Milosevic's passing.
The former Yugoslav leader had fervent supporters among the Russian political establishment, particularly among nationalists and communists.
Speaking to RFE/RL's Russian Service, Communist Party leader Gennady Zyuganov cast serious doubt on the UN tribunal's legitimacy: "Even the most pro-American forces in Russia are now silent and ashamed, because they understand that today it's Milosevic, and tomorrow they may get to you. I think all responsible politicians and citizens are seriously asking themselves what kind of tribunal this is, what kind of mock trial, what kind of procedures these are, when one is interrogated hundreds of times for eight or 10 hours. This is enough to push anyone to a heart attack and to death."
On March 15, a group of communists in St. Petersburg wrote to President Vladimir Putin to request that a street be renamed after Milosevic and a bust of him be erected in the city.
Slav Brothers
Russia and Serbia have close historical ties, are both predominantly Orthodox Christian, and have been allies in most of the 20th century's armed conflicts. Business ties between both countries also run deep.
Testifying to these warm relations, Moscow is currently home to Milosevic's wife, son, and brother Borislav Milosevic, who served as Yugoslav ambassador to Russia between 1998 and 2000.
The Kremlin's strong aversion to international rights watchdogs, which it accuses of meddling in Russia's internal affairs, may also explain such passionate calls for the dissolution of the tribunal. Some suggest that the Russian authorities may also fear being hauled one day before The Hague tribunal for crimes against civilians in war-torn Chechnya.
Many in Russia blame the UN tribunal for Milosevic's death.
In its statement March 15, the State Duma called for an independent international inquiry into the circumstances of his death. Deputies accused the court of "negligence or malicious intent."
The statement echoed earlier comments by Foreign Minister Sergei Lavrov, who on March 13 slammed the court for denying Milosevic permission to seek heart treatment in Moscow: "The Russian Federation provided the tribunal with 100 percent state guarantees that after the completion of the treatment Milosevic would return to The Hague. Those guarantees were examined during a special session of the tribunal, which found them insufficient. Essentially they did not believe Russia. This can only disturb us. It can only worry us that Milosevic passed away shortly afterwards."
Lavrov also said the late Yugoslav leader had sent a letter to the Foreign Ministry three days before dying. In the letter, he reportedly complained the treatment he was receiving in The Hague was harming him.
The foreign minister dispatched a team of Russian doctors earlier this week to check the findings of the official autopsy. The Russian medical team later endorsed those findings, but raised questions about what might have caused the heart attack that killed Milosevic.
Defense Witnesses
This storm of accusations is unlikely to come as much of a surprise to The Hague.
Anton Nikiforov, the chief adviser to the UN's chief war crimes prosecutor Carla Del Ponte, told RFE/RL's Russian Service that Russia has consistently refused to cooperate with the tribunal: "We have asked Russia for certain documents connected to the Milosevic cases and to other cases, but we almost never received anything. Milosevic had high-ranking witnesses from Russia. When we asked these witnesses whether they were ready to show us some of the written documents supporting their testimonies -- since these documents obviously had an official or confidential character -- no one has been able to show them to us."
Three Russian defense witnesses appeared at Milosevic's defense trial -- two former Russian premiers, Yevgeny Primakov and Nikolai Ryzhkov, and General Leonid Ivashov, who once headed the Defense Ministry's International Department.
Milosevic was the sixth person charged with war crimes in the Balkans to die at The Hague. A week earlier, former Croatian Serb leader Milan Babic, who had been a key prosecution witness against Milosevic, committed suicide in the same prison.
He had been sentenced in 2004 to 13 years in prison for crimes against humanity after pleading guilty to persecuting the non-Serb population in Croatia's Krajina region.
In Poor Health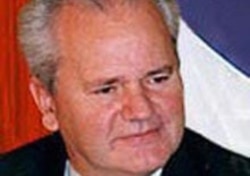 Slobodan Milosevic in an undated file photo (CTK)
HEART TROUBLES, HIGH BLOOD PRESSURE: Almost since the beginning of his trial in The Hague in February 2002, Slobodan Milosevic has been complaining of ill health. His trial has been repeatedly delayed as he sought medical treatment. As recently as February 24, the court declined Milosevic's request to travel to Russia for treatment for heart problems and elevated blood pressure, despite pledges from Moscow that Milosevic would be returned to The Hague to continue his trial on 66 counts of war crimes and crimes against humanity.
"[My health is] getting worse because of the decision that gives me no chance or adequate time to prepare my defense, and that is pretty clear," Milosevic told the court on July 5, 2004. " Because of that, I think that you have an obligation to give me adequate time."
"[The judges] have been very clear that there is no evidence to suggest that Mr. Milosevic is not fit enough to stand trial," court spokesman Jim Landale told journalists the next day. "They have decided that the time has possibly come for them to assign what is called a 'standby counsel.' That is a lawyer who would work alongside Mr. Milosevic and, were Mr. Milosevic to become ill again, be able to step in and represent his interests in court."
Of related interest:
Moscow Unhappy At Milosevic Travel Ban To Russia
Milosevic Seeks Leave For Health Checks In Russia
War Crimes Trial Takes Summer Recess Amid Concerns Over Milosevic's Health
See also:
Timeline: The Political Career Of Slobodan Milosevic
Slobodan Milosevic's Life And Legacy


THE COMPLETE PICTURE: An archive of RFE/RL's coverage of the trial of former Yugoslav President Slobodan Milosevic.
Of related interest:
RFE/RL Special: The Collapse Of Tito's Yugoslavia