Lukashenka Vows To Use Force On 'Troublemakers'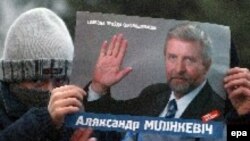 A masked supporter of Belarus opposition leader and presidential candidate Alyaksandr Milinkevich holds his poster during a preelection meeting in Borisov, Belarus today (epa) March 17, 2006 -- Belarusian President Alyaksandr Lukashenka today warned against any attempt at stirring unrest in the country, saying security forces would "wring the neck" of troublemakers.
Lukashenka made the comment two days ahead of the March 19 presidential election, in which he is seeking a third term in office.
The European Union's foreign policy chief, Javier Solana, earlier today warned Belarusian authorities that they would meet "strong international reaction" if they used violence against peaceful demonstrators.
Belarus's main opposition candidate, Alyaksandr Milinkevich, has called on supporters to rally in Minsk tomorrow.
The European Union has stepped up pressure on Lukashenka to ensure that the upcoming polls will be fair and democratic.
The EU Commission on March 16 warned it could lengthen the list of six Belarusian officials already barred from entering EU territory if the election is rigged.
(Belta, Reuters)



Click on the image to view a dedicated page with news, analysis, and background information about the Belarusian presidential ballot.
MEET THE CANDIDATES: Read brief biographies of the four candidates in the March 19 election.


Click on the image to view RFE/RL's coverage of the election campaign in Belarusian and to listen to RFE/RL's Belarusian Service.