Lukashenka To Opponents: "We Will Twist Their Heads Off"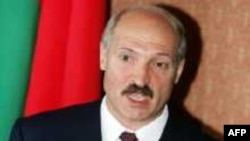 President Lukashenka has ordered police to treat any protestor who resists arrest as a terrorist (file photo) (AFP) March 17, 2006 -- Belarus' incumbent president today said he would not allow anyone stage a coup ahead of, or during, the March 19 election in which he is standing for a third term.
Alyaksandr Lukashenka said in a short televised address he would not allow protesters to block "streets and squares."
Earlier today, the Belarusian president told reporters at a truck factory outside Minsk that security forces were ready to deal with any potential unrest.
"God forbid any of those people who were mentioned or not mentioned yesterday should commit any sort of act in our country. We'll twist their heads off as if they were ducklings," Lukashenka said.
Authorities yesterday displayed on national television a man who confessed to undergoing guerilla warfare training in Georgia with a view to overthrowing the government. They said that any protesters resisting arrest would be treated as "terrorists."
The European Union's foreign policy chief, Javier Solana, today warned Belarusian authorities in a statement they would meet a "strong international reaction" should they use violence against peaceful demonstrators.
The EU, the United States, and several national governments and international organizations have said they do not expect the election to meet democratic standards. The
White House today said
it was "deeply concerned" about reports that Belarus authorities would crack down on protesters.
(Belarus TV, Belta, Reuters)


Click on the image to view a dedicated page with news, analysis, and background information about the Belarusian presidential ballot.
MEET THE CANDIDATES: Read brief biographies of the four candidates in the March 19 election.


Click on the image to view RFE/RL's coverage of the election campaign in Belarusian and to listen to RFE/RL's Belarusian Service.