BRUSSELS, March 18, 2006 (RFE/RL) -- "It's not really a 'war room' in the style of Winston Churchill," says Arnoldas Pranckevicius, who runs the EU's situation room, which is operating this weekend at the European Parliament.
However, the large room on the eighth floor of a European Parliament building in Brussels -- with its round table, a television set, telephones, and computers -- could be on the cutting edge of the EU response to the Belarusian poll.
EP Delegation Denied Visas
The room was set up this week when an ad hoc observation delegation of seven European Parliament deputies was denied visas to enter Belarus.
Pranckevicius said the parliament's standing delegation for Belarus then decided to make the best of an unsatisfactory situation and attempt to carry out its mandate from afar.
"The primary role of the situation room is to constantly follow information about the elections in Belarus and [to] inform the members of our ad hoc delegation; and also [to] be always prepared, if necessary, to mobilize attention here at the European Parliament; and also to prepare a statement on Monday [March20] as a first assessment of what has happened in Belarus," Pranskevicius says.
A Communications Hub
Today, Pranskevicius mans the situation room alone. At full strength, on March 19, five or six officials will relay information for 20 to 30 European Parliament deputies, most of whom won't be in Brussels. The situation room will have access to satellite television from Belarus and from neighboring countries such as Russia, Poland, Latvia, and Lithuania. It will receive information from opposition activists in Minsk and elsewhere.
The situation room will also have direct access to the Latvian Embassy in Minsk, which currently speaks for the EU in Belarus.
The situation room is liable to be able to offer the nimblest response to developments in Belarus on election day and on March 20. The European Commission and EU foreign ministers meeting in Brussels on March 20 will await the report of a monitoring team sent by the Organization for Security and Cooperation in Europe (OSCE), due at 4:30 p.m. Brussels time on March 20.
Pranskevicius says the European Parliament does not feel bound to wait that long and will probably have a statement out on March 20 morning, drawing on situation-room reports.
EP Deputies Attempting To Get Across The Border
He says another, more immediate key task of the situation room will be to monitor the progress of a number of European Parliament deputies attempting to enter Belarus individually.
"Of course, as you know, the ad hoc delegation decided not to go to Belarus because it was denied visas, but that does not exclude the possibility for individual members of the European Parliament to try to endeavor to enter Belarus on their own," Pranskevicius says.
The liberal Alliance of Liberals and Democrats for Europe (ALDE), a bloc in the parliament, has sent three deputies, all attempting to enter Belarus on tourist visas at various times and points today.
Pranskevicius says he cannot reveal the deputies' identities or itineraries for fear of tipping off the Belarusian authorities and compromising their chances of entry.
Pranskevicius says that if successful, the three deputies could perform a very important function both observing events and providing an EU presence on the ground.
"And, of course, here at the situation room in the European Parliament we will be in contact with those members who will be trying to [enter Belarus] and we will inform other members of the European Parliament as soon as we know if they succeeded or not," Pranskevicius says. "And if they do succeed we will try to establish contact with them and inform other members of what they have seen their, their experiences, impressions, and observations."
Pranskevicius says the situation room will arrange a video conference on March 20 at noon local time, linking up EU deputies in Brussels, a group of members of the U.S. House of Representatives in Washington, and the Lithuanian parliament in Vilnius.
The EU Watches Minsk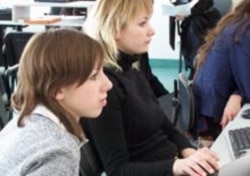 Belarusian students studying at an EU-funded university in Vilnius, Lithuania

WATCHING AND WAITING: The European Union repeatedly urged Minsk to conduct a fair and democratic presidential election on March 19. The EU external relations commissioner, Benita Ferrero-Waldner, said in a statement today that the recent arrests of Belarusian opposition figures are "unacceptable" campaign violations. Ferrero-Waldner repeated an EU threat of "targeted sanctions" against top Belarusian officials if the elections are not free and fair. However, the EU will withhold final judgment until March 20, when the bloc's foreign ministers meet in Brussels....(more)
Related stories:
Belarus: EU-Funded Broadcasts Set To Begin
Belarus: Oppositionist Seeks EU Support For 'Revolution Of Hope'
Belarus: EU Foreign Ministers Meet With Opposition Leader
Belarus: EU Bolsters Support For Opposition Ahead Of Vote


Click on the image to view a dedicated page with news, analysis, and background information about the Belarusian presidential ballot.
MEET THE CANDIDATES: Read brief biographies of the four candidates in the March 19 election.


Click on the image to view RFE/RL's coverage of the election campaign in Belarusian and to listen to RFE/RL's Belarusian Service.