Turkey's Kurds Demonstrate On Norouz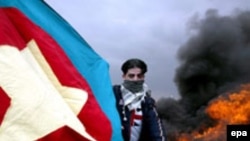 A Turkish Kurd holds a Kurdistan Workers Party (PKK) flag at a March 19 demonstration in Istanbul (epa) March 19, 2006 -- Thousands of Kurds across Turkey today marked the Persian New Year, Norouz, by demonstrating in support of the imprisoned Kurdish rebel leader Abdullah Ocalan and his outlawed Kurdistan Workers Party (PKK).
In Istanbul's Zeytinburnu district, more than 10,000 Kurds carried pictures of Ocalan at a gathering that was closely watched by hundreds of riot police.
In the Aegean port of Izmir, police used tear gas to break up a demonstration by an estimated 5,000 Kurds.
In Hakkari, on the Iranian border, Kurdish politician Ahmet Turk from the Democratic Turkey Party told a rally attended by thousands that Ankara should open up a dialogue with the PKK to agree on a peace deal.
(AP)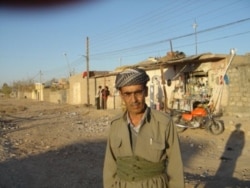 KURDISH AWAKENING: The ethnic Kurdish region in the northern part of Iraq has struggled in recent years to reestablish its cultural and political identity after decades of oppression under the regime of deposed Iraqi President Saddam Hussein. In December, RFE/RL correspondent Charles Recknagel traveled to this area and filed several reports:
Relative Peace Underscores Issue Of Kurdish Region's Future
Kurdish Culture Begins To Flourish In Kurdistan Region
Kurds Ponder How To Strengthen Autonomy After Elections