The CEC said the main opposition candidate, Alyaksandr Milinkevich, received 6 percent. Behind him came two other candidates: pro-government lawmaker Syarhey Haydukevich, with 2.8 percent, and opposition figure Alyaksandr Kazulin, with 1.5 percent.
Electoral authorities said the voter turnout in the poll was 92.6 percent.
Lukashenka has ruled Belarus for 12 years, and this victory will keep him in office until 2011.
Thousands Rally To Protest Results
Hours before the official results were announced, with preliminary reports indicating an overwhelming lead for the incumbent, Milinkevich dismissed the results as fraudulent.
Shortly after polls closed, over 20,000 demonstrators gathered in Minsk's October Square to protest alleged election fraud, RFE/RL's Belarus Service reported.


Milinkevich and another opposition candidate, Alyaksandr Kazulin, came to the square to address the crowds. Milinkevich declared the poll a farce and called for a new, honest election.
"We have won and it does not matter what they announce, they will announce a ridiculous percentage [for Lukashenka]. We have won because people believe they can stand up for freedom, truth, justice, and their own dignity," he said. "The authorities were threatening [people], saying there were terrorists with plans, but despite this, people have come out. This is a victory over fear."
Reporting from October Square, RFE/RL correspondent Alexander Lukashuk said it was the largest rally in Minsk in years. "[There are] an incredible number of people, an incredible number of young people," Lukashuk reported. "There are very young and beautiful faces here. And of course there are a lot of white-red-and-white flags, yellow-and-blue [Ukrainian] flags, European Union flags and flags of the Zubr movement."
Around midnight, Milinkevich asked his supporters to disperse and go home, but called on them and other Belarusians to return to October Square for another protest tomorrow.
(with agency material)
Ratcheting Up The Rhetoric
Ratcheting Up The Rhetoric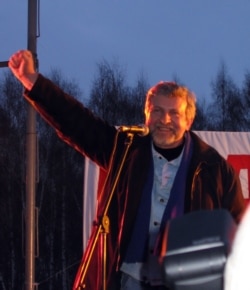 Alyaksandr Milinkevich attending an opposition rock concert on March18 in Minsk, where he first issued a call for protests (RFE/RL)


TOWARD A SHOWDOWN?: The main Belarusian opposition presidential candidate, Alyaksandr Milinkevich, and his campaign manager, Syarhey Kalyakin, spoke on March 19 at a news conference in Minsk. RFE/RL's Belarus Service provided excerpts from Milinkevich's remarks.
Milinkevich: I believe this civil confrontation can be resolved by repeating elections, in which representatives of all candidates will be represented in election commissions.
Milinkevich: This will not be a true result. It will be a result of falsifications that have been continuing for a long time. [The results] will be recognized neither by us nor the majority of the Belarusian population. They will not be recognized by democratic countries, it has already become obvious.
Milinkevich: I will be appealing to the good senses of the authorities. This conflict should not be escalated. It should not be fomented. A resolution should be found. Let's sit down to the negotiating table.
Milinkevich: I am absolutely confident that democratic countries will not recognize this election as legitimate. I very much hope that there will be quite a few serious politicians in Russia who will do the same.
Milinkevich: Those people who will overcome fear will come out in the streets. There was and still is fear being infused today by warnings of alleged terrorism, which has never been heard of in Belarus. So let's see how many people will come out. I will be grateful to everyone who comes out and says peacefully that we want to live like humans and not on our knees, in humiliation.


Click on the image to view a dedicated page with news, analysis, and background information about the Belarusian presidential ballot.


Click on the image to view RFE/RL's coverage of the election campaign in Belarusian and to listen to RFE/RL's Belarusian Service.