Observers from Russia have already said they consider the election to have been fairly held.
Election officials early today announced that President Alyaksandr Lukashenka had received 82.6 percent of the March 19 vote to win an unprecedented third term that will keep him in office for another five years.
The main opposition candidate, Alyaksandr Milinkevich, who received 6 percent according to the official results, has alleged massive electoral fraud and called for a new, fair election.
"We have won and it does not matter what they announce," Milinkevich said. "They will announce a ridiculous percentage [for Lukashenka]. We have won because people believe they can stand up for freedom, truth, justice, and their own dignity. The authorities were threatening them, saying there were terrorists with plans, but despite this, people have come out. This is a victory over fear."
He has urged opposition supporters to return to central Minsk's October Square this evening to continue Sunday night's peaceful rally that was attended by more than 10,000 people. It was the biggest opposition rally in Belarus in recent years.
Electoral authorities said voter turnout in the poll was 92.6 percent.
(compiled from agency reports)
The EU Watches Minsk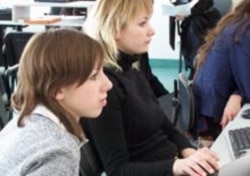 Belarusian students studying at an EU-funded university in Vilnius, Lithuania

WATCHING AND WAITING: The European Union repeatedly urged Minsk to conduct a fair and democratic presidential election on March 19. The EU external relations commissioner, Benita Ferrero-Waldner, said in a statement today that the recent arrests of Belarusian opposition figures are "unacceptable" campaign violations. Ferrero-Waldner repeated an EU threat of "targeted sanctions" against top Belarusian officials if the elections are not free and fair. However, the EU will withhold final judgment until March 20, when the bloc's foreign ministers meet in Brussels....(more)
Related stories:
Belarus: EU-Funded Broadcasts Set To Begin
Belarus: Oppositionist Seeks EU Support For 'Revolution Of Hope'
Belarus: EU Foreign Ministers Meet With Opposition Leader
Belarus: EU Bolsters Support For Opposition Ahead Of Vote


Click on the image to view a dedicated page with news, analysis, and background information about the Belarusian presidential ballot.
MEET THE CANDIDATES: Read brief biographies of the four candidates in the March 19 election.


Click on the image to view RFE/RL's coverage of the election campaign in Belarusian and to listen to RFE/RL's Belarusian Service.