OSCE Criticizes Belarus Vote As Not Free Or Fair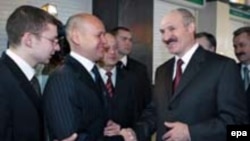 Alyaksandr Lukashenka celebrating victory on March 19 (epa) PRAGUE, March 20, 2006 (RFE/RL) -- The Organization for Security and Cooperation in Europe (OSCE) says Belarus's presidential election on March 19 did not meet standards for a free and fair vote.
In a statement, the OSCE says the "arbitrary use of state power and widespread detentions showed a disregard for basic rights."
It continued that the detentions of opposition figures ahead of the vote "raise doubts regarding the authorities' willingness to tolerate political competition."
That assessment was delivered in Minsk today by U.S. Representative Alcee Hastings, the special coordinator of the 500-member observer mission in Belarus.


Click on the image to view a dedicated page with news, analysis, and background information about the Belarusian presidential ballot.
MEET THE CANDIDATES: Read brief biographies of the four candidates in the March 19 election.


Click on the image to view RFE/RL's coverage of the election campaign in Belarusian and to listen to RFE/RL's Belarusian Service.