PRAGUE, March 20, 2006 (RFE/RL) -- Lidziya Yarmoshyna, the head of Belarus's Central Election Commission, said she expected to hear critical findings from the OSCE.
Personally, however, she said she found the preliminary results convincing. The figures she cited in an early morning news conference were also the highest-ever level of support voters have shown for Lukashenka, their president of 12 years.
"In the presidential election in Belarus on March 19, 2006, President Lukashenka, Alyaksandr Grigorievich, was elected to a third term," she said to applause. "He received 82.6 percent of the vote."
By contrast, Lukashenka's closest rival -- united opposition candidate Alyaksandr Milinkevich -- garnered just 6 percent of the vote.
Voted Called 'Unconstitutional'
Milinkevich, who called for peaceful public protests following the closure of polls on March 19, has called the process an "unconstitutional seizure of power" and not an election.
He is urging Belarusian protesters to return to central Minsk tonight for a second evening of rallies.
"The only way to talk to the authorities," Milinkevich said, "is from the streets."
Milinkevich repeat his call for fresh elections at a Minsk press conference today.
"We demand a repeat of the election in which the legislation of the country will be respected," he said. "We demand that representatives of the [presidential] candidates, by all means, are included in the [election] commissions -- something that didn't exist this time. We demand that there are no arrests of people and that those in power abandon the regime of repression during elections."
Lukashenka, who earlier threatened to "break the necks" of any protesters who attempted to disrupt the vote, appeared more sanguine today in accepting his official win.
Lukashenka Defiant
Lukashenka told journalists his victory was a sign to the outside world that it was not free to meddle in internal Belarusian affairs, and that the Belarusian people had made their choice freely and fairly.
"Despite the open foreign pressure, the colossal pressure from outside, we managed to resist," Lukashenka said. "This [pressure] has produced a completely opposite effect -- Belarus is a nation that could not be controlled and one could not pointlessly put pressure on it. The results of the vote showed that with absolute clarity."
But officials in Brussels disagree.
The European Union has said there was only one positive note in a vote that otherwise violated all electoral standards -- and that was that the evening's opposition protests had passed without violence.
International Groups Condemn The Election
Emma Udwin, the spokeswoman for EU External Relations Commissioner Benita Ferrero-Waldner, described the commissioner's reaction as "saddened, but relieved."
"We saw with some relief that there was little or no use of violence," Udwin said. "But, that said, we are saddened -- if not surprised -- by the way the campaign itself turned out."
The Organization for Security and Cooperation in Europe echoed the sentiment, saying the election did not meet standards for a free and fair vote.
In a statement, the OSCE said the "arbitrary use of state power and widespread detentions showed a disregard for basic rights."
It went on to say the detentions of opposition figures ahead of the vote "raise doubts regarding the authorities' willingness to tolerate political competition."
That assessment was delivered in Minsk today by U.S. Congressman Alcee Hastings (Democrat, Florida). He is the special coordinator of the 500-member OSCE observer mission in Belarus.
In Brussels, Udwin said the numerous arrests of opposition members in the weeks preceding the elections have no place in a proper election. She said Ferrero-Waldner had called on all opposition figures still in detention to be freed immediately.
Sanctions To Come?
The European Commission also condemned the Belarusian government's stranglehold on the media and its refusal to admit into the country a monitoring team from the European Parliament.

Udwin said although the EU has no intention of imposing painful measures on average Belarusians, some new sanctions against the state appear inevitable.
"It is now really very likely that some action will be taken following up on what the council [of EU foreign ministers] said both in November and January -- that ministers stood ready to take further restrictive measures if the elections turned out not to be free and fair," Udwin said.
No announcements regarding sanction are likely to be made until EU foreign ministers hold their next meeting in April.
The EU is likely to continue its earlier policy of targeting officials who are held responsible for violations of international standards of democracy and human rights.
Officials say the EU may also extend its list of Belarusian officials banned from entering any EU member-states. The list currently comprises six top officials -- but not Lukashenka. Freezing certain assets would be another possibility.
Praise For The Opposition
Udwin today said EU aid to civil society will continue and that Brussels salutes the determination of the Belarusian opposition.
"I think it's important to recognize the courage that it has taken for the opposition candidates to stand and to maintain their campaign in extremely difficult circumstances and sometimes at personal risk," Udwin said. "And that deserves our respect and recognition."
Udwin today declined to say if the EU would continue talking to the Lukashenka regime. EU member states currently avoid talking to Minsk, leaving direct contact to the bloc's rotating presidency and foreign policy chief Javier Solana.
The EU Watches Minsk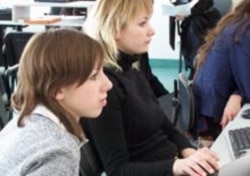 Belarusian students studying at an EU-funded university in Vilnius, Lithuania

WATCHING AND WAITING: The European Union repeatedly urged Minsk to conduct a fair and democratic presidential election on March 19. The EU external relations commissioner, Benita Ferrero-Waldner, said in a statement today that the recent arrests of Belarusian opposition figures are "unacceptable" campaign violations. Ferrero-Waldner repeated an EU threat of "targeted sanctions" against top Belarusian officials if the elections are not free and fair. However, the EU will withhold final judgment until March 20, when the bloc's foreign ministers meet in Brussels....(more)
Related stories:
Belarus: EU-Funded Broadcasts Set To Begin
Belarus: Oppositionist Seeks EU Support For 'Revolution Of Hope'
Belarus: EU Foreign Ministers Meet With Opposition Leader
Belarus: EU Bolsters Support For Opposition Ahead Of Vote


Click on the image to view a dedicated page with news, analysis, and background information about the Belarusian presidential ballot.
MEET THE CANDIDATES: Read brief biographies of the four candidates in the March 19 election.


Click on the image to view RFE/RL's coverage of the election campaign in Belarusian and to listen to RFE/RL's Belarusian Service.