PRAGUE, March 21, 2006 (RFE/RL) -- It was a scene reminiscent of Ukraine's Orange Revolution in 2004, albeit on a much smaller scale.
Crowds gathered in the Belarusian capital Minsk continued their protest against the country's presidential election, echoing the opposition's call for a new vote.
Today's rally came after an evening protest on October Square on March 20 of some 7,000 people. Several hundred protesters endured freezing temperatures on the square overnight, dancing and chanting to keep themselves warm.
It was the second consecutive nighttime protest following the March 19 vote, which saw incumbent Alyaksandr Lukashenka comfortably returned to his post for five more years. On the night of the vote, some 20,000 protesters gathered on October Square.
Suspiciously Large Margin
Lukashenka has kept a firm grip on the country's security forces and media since assuming control 12 years ago. Belarus has enjoyed relative stability under his reign, and few expected to see him lose.
But the gaping margin between him and his closest competitor -- opposition candidate Alyaksandr Milinkevich, who trailed him by nearly 77 percentage points -- provoked many pro-democracy supporters to claim election fraud.
"Belarusians are getting rid of their fear and they are revealing that they have dignity." -- Milinkevich

Demonstrators gathered in October Square called for new elections to be called in July. Many carried the white-and-red Belarusian national flags banned by Lukashenka in favor of a Soviet model. Supporters brought food and hot drinks, and some drivers blew their horns as they drove by in a sign of support.
The crowd is a tiny fraction of the 100,000 people that occupied Kyiv's Independence Square during the Orange Revolution in 2004. But opposition candidate Milinkevich told Reuters television this morning that the determination of the demonstrators is a testament to major changes under way in Belarus.
"There's a feeling of great joy and happiness as a new nation is being born -- a Belarusian [nation]," Milinkevich said. "We often used to hear that Belarusians lack will and character and that they tolerate dictatorship, and I think during the last six months, preparing for the elections, people have managed to achieve something that we could not do over the course of many years in the past. Belarusians are getting rid of their fear and they are revealing that they have dignity. The youths who are here will live in a new Belarus."
Security forces in Minsk have so far maintained a watchful but unaggressive stance. But a number of opposition activists have been reportedly arrested, many while attempting to deliver food to protesters. RFE/RL's Belarus Service cited a Milinkevich aide as saying that 108 activists have been arrested since last night. This figure could not be independently verified. Three Georgian nationals attending the rally were also detained.
International Criticism
International reaction to the vote has been largely critical. The European Union and Washington both condemned the election as highly irregular, and Washington has reiterated the call for a fresh vote.
The presidents of Ukraine and Georgia, Viktor Yushchenko and Mikheil Saakashvili, respectively, have likewise criticized the vote and voiced their support for the Belarusian people.
To the Belarusian opposition, the two leaders are significant figures because of the popular uprisings that brought them both to power following elections criticized as fraudulent.
Russian President Vladimir Putin, by contrast, welcomed the official outcome of the vote and congratulated Lukashenka on his reelection. "The results of the elections point to voters' trust in your [Lukashenka's] policies and to the further growth of the prosperity of the Belarusian people," Putin said in a March 20 statement.
(with agency reports)
RFE/RL In Minsk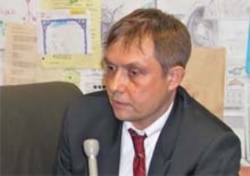 RFE/RL Belarus Service Director Alexander Lukashuk (RFE/RL)

VOTING UNDER WAY: RFE/RL's Belarus Service Director ALEXANDER LUKASHUK is in Minsk today (March 19) covering the vote. He spoke by phone with RFE/RL correspondent Valentinas Mite.
RFE/RL: How is the vote is going?
Lukashuk: The first thing which I learned today is that one-third of voters had already voted [before March 19] during the five days from Monday to Saturday. In the presidential elections in 2001, the number was only 14 percent of voters.
RE/RL: What is the significance of the early voting?
Lukashuk: [The significance is] that people are coming to the polling stations and just casting ballots. Of course, during this [stage of the] vote there are no observers and nobody is checking the polling boxes. And one-third of the population has voted this way.
RFE/RL: What do the exit polls say and which groups are conducting them?
Lukashuk: At 10 a.m., the first results of exit polls were announced and the results showed that 82 percent of voters had chosen Lukashenka. [Two organizations are allowed] to conduct exit polls in the country: the Union of Belarusian Republican Youth and an organization called EKOOM. These organizations are quasi-state-owned. These exit polls mean nothing. The figures are only for propaganda purposes."
RFE/RL: Have you heard reports that further arrests of opposition figures are under way, following the arrests in the run-up to the polls of many others?
Lukashuk: Yes, the arrests of activists supporting [opposition] candidates are continuing. [More arrests happened today] in Brest, Mohilev, and Minsk.


Click on the image to view a dedicated page with news, analysis, and background information about the Belarusian presidential ballot.
MEET THE CANDIDATES: Read brief biographies of the four candidates in the March 19 election.


Click on the image to view RFE/RL's coverage of the election campaign in Belarusian and to listen to RFE/RL's Belarusian Service.