Bush told a news conference in Washington that Iraq was confronted with increased acts of sectarian violence, but he said this did not amount to civil war.
Bush also said the U.S.-led coalition is making progress against insurgents in Iraq.
The president said the new Iraqi army has refused to split along sectarian lines, and that "the Iraqis had a chance to fall apart and they didn't."
Bush also said at the White House today that there is going to be more fighting ahead. But the president said he is confident of achieving victory in Iraq because the United States has a strategy aimed at winning.
(AP, Reuters)
Boots On The Ground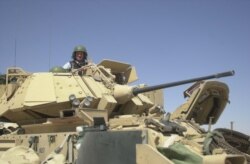 RFE/RL correspondent Ron Synovitz with U.S. troops in Iraq in March 2003 (RFE/RL)


THE SOUND OF THE GUNS: In the days just before and after the beginning of Operation Iraqi Freedom on March 19-20, 2003, RFE/RL worked hard to cover the unfolding conflict. RFE/RL correspondent RON SYNOVITZ was embedded with the 3rd Brigade Combat Team in the U.S. Army's 3rd Infantry Division as it crossed the border from Kuwait and drove deep into Iraq. Synovitz stayed with the U.S. troops through mid-April, covering the battle for Baghdad and the toppling of Saddam Hussein's regime.
Listen to Synovitz's report from the Iraq-Kuwait border on March 18, 2003 (about four minutes):
Real Audio Windows Media
Listen to Synovitz's report from March 19, 2003, just hours before the 3rd Infantry Division began to cross into Iraq (about three minutes):
Real Audio Windows Media
See also:
Embedded RFE/RL Correspondent Recalls War's First Day
RFE/RL correspondent CHARLES RECKNAGEL also covered the beginning of the war from Kuwait and Iraq. Here are some links to his reports:
Iraq: Desert Dispatch -- The View From Kuwait
Kuwait: Desert Dispatch -- Kuwait City Under Constant Air-Raid Alerts
Iraq: Desert Dispatch -- Correspondent Crosses Iraq Border
THE COMPLETE PICTURE: To view an archive of RFE/RL's coverage of the beginning of combat operations in Iraq, click here.


RFE/RL's complete coverage of events in Iraq and that country's ongoing transition.