The party said Oleksandr Hlobenko was shot in the back in the capital Kyiv overnight and was in a serious condition.
A police spokesman confirmed there had been an "incident," but declined to provide details, citing an ongoing investigation.
Meanwhile in Kharkiv, an explosive device went off at the entrance to the regional headquarters of the Party of Regions. The handmade device went off as a party leader, Yevhen Kushnariov, was leaving the office late on March 21. No one was hurt. Kharkiv police have opened an investigation.
The incidents came as Ukraine prepares for parliamentary elections on March 26.
(Interfax-Ukraine, AP, dpa)
Ukraine's Choice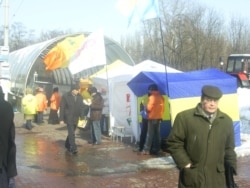 Campaign stands on a Kyiv street in ahead of the March 26 elections (RFE/RL)


RELOADED DEMOCRACY: On March 16, Ukrainian Ambassador to the United States OLEH SHAMSHUR held a briefing at RFE/RL's Washington office. Shamshur discussed the political and economic achievements of the last year and the political environment in the run-up to the legislative elections. "Many people would say it was a year lost," he said. "And I would categorically, even definitely, object to that. I think that it was a year not lost; it was a difficult year; it was the learning period when we were learning, or in some instances, relearning to act under the democratic rules and procedures. Some mistakes which were made were avoidable, some were hardly avoidable, but in any case it was very important period for Ukraine as a country, Ukraine as a new, or if you wish, rediscovered, reloaded democracy."
Listen to the complete presentation (about 60 minutes):
Real Audio Windows Media



Click on the image for background and archived articles about Ukraine's March 26 elections.




Click on the image to see RFE/RL's coverage of the Ukrainian elections in Ukrainian.