PRAGUE, 22 March 2006 (RFE/RL) -- Supreme Leader Ayatollah Khamenei says that if Iranian officials can make the United States understand Iranian views on Iraq "there is no problem with the talks."
Khamenei also said on March 21 that "if the talks mean opening a venue for the bullying, aggressive, and cunning side to forcefully impose its view, this will be forbidden like all the other cases."
The White House has authorized the U.S. ambassador to Iraq, Zalmay Khalilzad, to speak with Iran about Iraq. But it has said that the talks will not involve the crisis over Iran's disputed nuclear program.
Iran's Demand
Iran's supreme leader also said that Iranian officials will tell the United States to leave Iraq.
"What are those [Iranian] views? Those views are aimed at making Americans understand that they should leave Iraq alone so that the Iraqi nation can run their country," he said. "They should stop provoking various sects so that Iraq can see security."
The comments are the first formal and public approval of the proposed discussion on Iraq by Ayatollah Khamenei, who has the last say in all Iran's state matters.
But observers say Khamenei had clearly put his weight behind the talks even before his March 21 speech as without his backing Iranian officials would not have announced their readiness to resume talks with "the Great Satan."
Khamenei's comments follow criticism by hard-liners of a major shift in Iran's foreign policy after more than two decades of official enmity between the Islamic Republic and the United States.
On March 20, a member of the Iranian parliaments' Foreign Policy and National Security Commission, Javad Jahangirzadeh, said the United States could use the talks on the subject of Iraq "as a tool" for resolving its own problems.
Sign Of Weakness?
Last week the hard-line daily "Kayhan" warned in an editorial that by proposing talks on Iraq, Washington is aiming to send a message to the world's Islamic movements that "Iran gave in to Washington after 27 years of resistance."
The conservative daily "Resalat" also warned that the fact that the proposed talks coincide with Iran's nuclear case being discussed in the UN Security Council, will be seen as showing "Iran's weakness" on the international scene.
Khamenei's comments also come amid suggestions that the talks about Iraq could be broadened and eventually lead to the defusing of tensions between Tehran and Washington.
Earlier this week, Iran's main pro-reform party, the Participation Front, called for transparency on any talks with the United States and said in a statement that "the nation's leaders apparently want dialogue with the U.S. not only on Iraq but on other issues."
But on March 21, Ayatollah Khamenei insisted that the talks will only focus on issues related to Iraq.
"We have stated from the beginning and say it here again that we do not discuss any issue with America over which we are in dispute with that country," he said.
Khamenei said the United States uses talks as a tool to impose its will on others. Therefore, he added that negotiations with Washington on any issues are "meaningless."
Just One Topic
Others Iranian officials, including the secretary of Iran's Supreme National Security Council, Ali Larijani, have also insisted that talks with the United States will be focused solely on the stabilization of Iraq.
Larijani, who on March 16 announced for the first time that Tehran is willing to discuss Iraq's situation with Washington, has expressed hope that the talks will put Iraq's future governments in "a better position to deal with problems."
Last week, Iranian Foreign Minister Manuchehr Mottaki said the talks could help the formation of Iraq's government.
Iranian officials have said they accepted the talks with the United States based on a request by the Secretary-General of the Supreme Council for the Islamic Revolution of Iraq, Abdul-Aziz Hakim.
The White House has authorized the U.S. ambassador to Iraq, Zalmay Khalilzad, to speak with Iran about Iraq. But it has said that the talks will not involve the crisis over Iran's disputed nuclear program.
On March 21, Kuwaiti news agency Kuna quoted Iraqi Interior Minister Jabr al-Solagh as saying that Iran and the United States will discuss an exchange of information about Al-Qaeda. Al-Solagh told Kuna that Iran has information on Al-Qaeda. He added: "Iran has the ability to curb Al-Qaeda's activities in Iraq."
Al-Solagh has also said that there is no evidence of Iranian intervention in Iraq's internal affairs.
U.S. officials have in the past repeatedly accused Iran of meddling in Iraq, as have some Iraqi officials. But Tehran has rejected the charges.
The date and location of the talks between Tehran and Washington has not been announced yet. Larijani has said that he expects the talks to start "soon."
Sectarian Iraq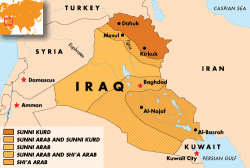 Click to enlarge the image.
SUNNI, SHI'A: Iraq is riven along sectarian lines, faults that frequently produce violent clashes and are a constant source of tension. Sectarian concerns drive much of Iraqi politics and are the main threat to the country's fragile security environment.


THE COMPLETE PICTURE: Click on the image to view RFE/RL's complete coverage of events in Iraq and that country's ongoing transition.