Writer Jailed For Defaming Iraqi Kurdish Leader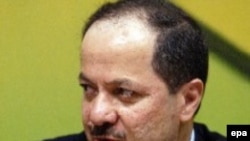 Mas'ud Barzani (file photo) (epa) March 26, 2006 -- A Kurdish writer was sentenced to 18 months in prison for defaming Iraqi Kurdish leader Mas'ud Barzani, in a case that has raised questions about the freedom of the press in postwar Iraq.
Kamal Qadir, an Iraqi-born Kurd with Austrian citizenship, was originally sentenced to 30 years in prison for defaming Barzani, but the sentence was reduced in a retrial.
Qadir published articles on a Kurdish website accusing Barzani and his Kurdistan Democratic Party of corruption and abuse of power. He was arrested in October.
(Reuters)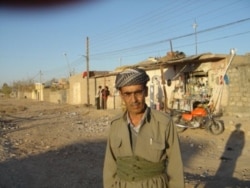 KURDISH AWAKENING: The ethnic Kurdish region in the northern part of Iraq has struggled in recent years to reestablish its cultural and political identity after decades of oppression under the regime of deposed Iraqi President Saddam Hussein. In December, RFE/RL correspondent Charles Recknagel traveled to this area and filed several reports:
Relative Peace Underscores Issue Of Kurdish Region's Future
Kurdish Culture Begins To Flourish In Kurdistan Region
Kurds Ponder How To Strengthen Autonomy After Elections