U.S. Asks Russia To Investigate Reports Of Pre-War Intelligence Sharing With Iraq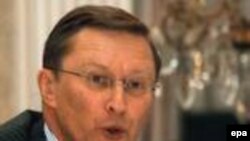 Russian Defense Minister Sergei Ivanov called the allegations "complete nonsense" (file photo) (epa) March 28, 2006 -- U.S. Secretary of State Condoleezza Rice asked Russia today to conduct an investigation into a Pentagon report that Moscow gave intelligence on American military movements to Iraq at the start of the 2003 invasion.
The U.S. State Department said Rice spoke on the telephone to Russian Foreign Minister Sergei Lavrov about the alleged intelligence-sharing between Russia and Iraq.
Earlier today, Russian Defense Minister Sergei Ivanov described the allegation as "complete nonsense."
Specifically, the Pentagon report alleged that captured Iraqi documents indicate Moscow obtained information from sources inside the U.S. Central Command and passed the intelligence information to Saddam Hussein's government.
(Reuters, AP)

SUBSCRIBE For news and analysis on Russia by e-mail,
subscribe to "RFE/RL Russia Report."